Bush vows US will finish job in Iraq
(Agencies)
Updated: 2004-04-14 09:02
U.S. President Bush acknowledged Tuesday night the United States has suffered a series of "tough weeks in Iraq" but said American forces will "finish the work of the fallen" and usher in a new era of freedom and democracy. Bush said if additional forces are needed "I will send them" to Iraq, where more than 100,000 troops are stationed.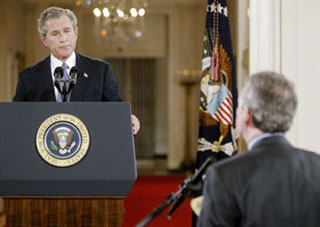 U.S. President George W. Bush answers the first question during the start of a rare nationally televised news conference at the White House April 13, 2004. [Reuters]


One year after the fall of Saddam Hussein, Bush said a recent spike in savage violence is neither a civil war nor a popular uprising. "The violence we've seen is a power grab by ... extreme and ruthless elements" from inside Iraq and from outside.

Bush also said the United States would stick to a deadline of June 30 for handing over political power to Iraqis.

Bush made his remarks in a lengthy statement at the outset of a prime-time White House news conference, only the third in more than three years in office.

He strode into the East Room of the White House midway through the deadliest month for Americans since Baghdad fell last spring.

At least 83 U.S. forces have been killed and more than 560 wounded this month, according to the U.S. military, as American troops fight on three fronts: against Sunni insurgents in Fallujah, Shiite militiamen in the south and gunmen in Baghdad and on its outskirts. At least 678 U.S. troops have died since the war began in March 2003.

Additionally, four American employees of a private security company working in Iraq were killed and their bodies mutilated two weeks ago, and Thomas Hamill, an employee another firm, was seized as a hostage since last week.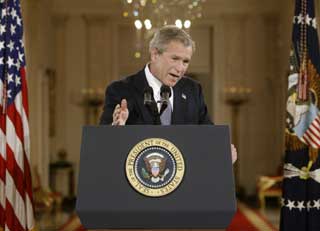 U.S. President George W. Bush answers a question during a nationally televised news conference at the White House April 13, 2004. [Reuters]

Iraq figures in Bush's decline in public opinion polls in two areas that are critical for his re-election campaign. Approval of his handling of Iraq has declined to the mid-40 percent level, and approval for his handling of terrorism has dipped into the mid-50s. Growing numbers of people say the military action in Iraq has increased rather than decreased the threat of terrorism.

Bush said the United States was demanding the arrest or capture of Muqtada al-Sadr, a radical Shiite cleric whose illegal militias are blamed for the mutilation of the four Americans.

He compared insurgents taking hostages in Iraq to radical Islamic fanatics around the world, saying they are "serving the same ideology of murder" of those who blow up trains in Madrid, Spain, bomb buses in Israel ¡ª or inflicted the worst attack in American history on Sept. 11, 2001.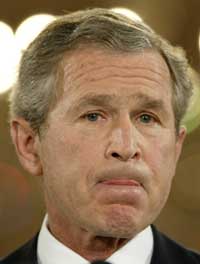 U.S. President George W. Bush listens to a reporter's question during a nationally televised news conference at the White House April 13, 2004.[Reuters]

"None of these actions are the work of a religion, Bush said. "All are the work of a fanatical political ideology."

While Bush said American troops will remain in Iraq, he also said the United States would formally recognize the new Iraqi government once the June 30 transfer of power was completed and appoint an ambassador and open an embassy.

He also said he would send Deputy Secretary of State Richard Armitage to the Middle East to discuss issues of "mutual interest" with nations there.

Bush's opening statement lasted 17 minutes ¡ª the equivalent of a medium length address to the nation.

It was Bush's first prime-time news conference since March 6, 2003, just days before the opening of the war to depose Saddam. Bush's only other evening news conference was on Oct. 11, 2001, a month after the terror attacks.

In the hours leading up to Bush's appearance, the national commission investigating Sept. 11 held a televised hearing and issued a report that said a more alert FBI and CIA working together might have uncovered the terrorists' plot. The report detailed an agonizing series of missed opportunities, half-measures and bureaucratic inertia.

Commissioner Thomas H. Kean called it "an indictment of the FBI for over a long period of time."
Today's Top News
Top World News

Cheney: US does not support Taiwan independence




4 US contractors killed, mutilated in Iraq




White House sets up China trade office




Bush vows US will finish job in Iraq




HIV/AIDS sufferers can receive free therapy




Grain production, farmers' income vital