US troops besiege Najaf for rebel cleric
(Agencies)
Updated: 2004-04-14 08:59
U.S. troops massed outside the holy Shi'ite city of Najaf Tuesday, ready for a possible move against rebel cleric Moqtada al-Sadr and his militia despite the risk enraged Iraqis would see this as defiling their shrines.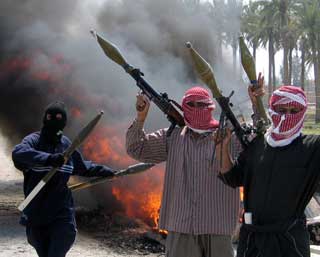 Masked Iraqi insurgents wield rocket propelled grenade launchers near a burning U.S. Humvee vehicle in the embattled town of Falluja April 13, 2004. [Reuters]

Armed groups opposed to the occupation freed some foreign hostages -- five Ukrainians and three Russians -- but made new demands for others. Gunmen paraded four Italians and demanded Rome pull its troops out of Iraq. A French journalist joined the list of those held captive.

U.S. officials in Washington said that four bodies had been found in Iraq and the State Department had contacted the families of seven missing Americans.

The identities of the dead have not been confirmed, it said. Two U.S. soldiers are missing in Iraq as well as the seven U.S. civilians.

Such is the danger on Iraq's roads that the U.S. Army said it was suspending some supply convoys until safety improved.

The Pentagon toll of U.S. soldiers killed in action since the start of the war rose to 484 Tuesday -- seven higher than the previous day. In the last eight days at least 65 soldiers have died in the bloodiest fighting since Saddam Hussein's fall.

Brigadier General Mark Kimmitt, deputy director of operations for the U.S. military in Iraq, said a powerful U.S. force was building up outside Najaf, south of Baghdad, where Sadr is believed to have taken refuge close to the main shrine.

A revolt by Sadr's militiamen this month swept through Shi'ite areas of Baghdad and southern Iraq, opening a new front for U.S. forces already battling minority Sunni Muslims in towns like Falluja, to the west, where most hostages have been taken.

"Currently we see a significant threat in the vicinity of Najaf by the name of Moqtada al-Sadr and his militia," Kimmitt told a news conference in Baghdad. "We will get the forces to the place, at the time when it is necessary, to go after him and his militia to end this violence -- it is that simple."

Sadr's spokesman in Najaf said if U.S. troops went into the city it would ignite mass violence across Iraq. "At the moment they are facing an uprising, but if they harm Sadr a massive revolution will take place all over Iraq," Qays al-Khazali told a news conference.

But a delegation of Shi'ite clerics who met Sadr said he had hinted he would disband his militia if religious authorities told him to do so, and had named an envoy to negotiate with the Americans.

HOSTAGE CRISIS

The past week's kidnappings have lent a new dimension to the Iraq conflict, snaring civilians from more than a dozen countries, some of which -- like Russia, France and China -- opposed the war that ousted Saddam.

Television pictures showed four men described as Italian hostages seated on a floor surrounded by gunmen. Prime Minister Silvio Berlusconi said Italy would do all it could to free them but its mission in Iraq was "absolutely not under discussion."

French television news agency Capa said one of its reporters had been kidnapped south of Baghdad Sunday.

France had urged its citizens to leave Iraq and postpone any plans to travel there. Russia's biggest contractor in Iraq said it was now evacuating all its 370 staff and Moscow said it was ready to help all the roughly 500 Russians in Iraq to leave.

Seven Chinese seized near Falluja were freed Monday but three Czech journalists were missing. The fate of three Japanese hostages, threatened with death unless Japanese troops pull out, remained unclear.

Faced with spreading violence in Iraq, General John Abizaid, commander of U.S. forces in the region, said he wanted two more brigades to join the 145,000 U.S.-led troops already there.

President Bush said the drive to crush "lawlessness and gangs" was vital for a planned handover of power to Iraqis on June 30 and a transition to democracy. Bush was due to make a televised address late Tuesday.

FALLUJA FIGHTING

Fresh clashes on the eastern edge of Falluja threatened a shaky truce in the city, the scene of fierce fighting last week between U.S. Marines and Sunni insurgents.

Ahmed al-Ani, an official at Falluja's main hospital, said fighting in the last eight days killed at least 625 people, including about 20 in the past three days of sporadic gunfire.

The Marines attacked rebels in Falluja last week in response to the gruesome public murders of four Americans on March 31.

A U.S. helicopter was shot down near the town Tuesday and the U.S. military said three crew were wounded.

Fighting also broke out in Karma, near Falluja. A Reuters photographer saw smoke billowing from the town after U.S. air strikes. Locals said two women and three men had been killed.

Armed insurgents emerged from muddy side streets and date palm groves. "These cowards, the Americans, they are killing families. They did not come here to liberate us from the (Saddam) regime, they came to kill women and children," said one guerrilla.

The U.S. army said a roadside bomb attack on a convoy on its way to Najaf from Baquba, north of Baghdad, killed a U.S. soldier and wounded a soldier and a civilian contractor.
Today's Top News
Top World News

Cheney: US does not support Taiwan independence




4 US contractors killed, mutilated in Iraq




Bush vows US will finish job in Iraq




HIV/AIDS sufferers can receive free therapy




Grain production, farmers' income vital




Beijing now nation's 'most wired'