Wen, Prodi eye long-term good ties
By Shao Zongwei (China Daily)
Updated: 2004-04-14 00:19
Premier Wen Jiabao Tuesday proposed a study and the drafting of the goals for the development of ties between China and the European Union (EU) over the next 10 to 15 years.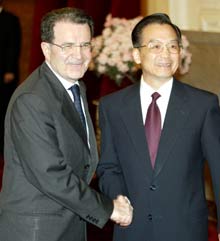 European Commission President Romano Prodi (L) is greeted by Chinese Premier Wen Jiabao in Beijing's Great Hall of the People April 13, 2004. Prodi is in China to build trade and economic ties, and launch an EU-funded program for European studies in China. [Reuters]

Wen made the remarks during his meeting with Romano Prodi, president of the European Commission.

The move comes after voiced optimism over the current excellent momentum in bilateral ties between the two entities.

In a significant move to enhance co-operative ties, China produced its first ever EU policy paper last October just as the European Commission adopted a new strategy on China.

Both sides agreed at the 6th EU-China Summit later that month to broaden the scope of their dynamic and comprehensive partnership.

According to a Chinese Foreign Ministry spokesman, Wen told Prodi the two sides should earnestly carry out their policies expressed last year, expanding and deepening their collaboration in all fields.

Only last week, the European Commissioner for Research Philippe Busquin visited Beijing, enhancing EU-China co-operation in science and technology. European Commissioner for Agriculture, Rural Development and Fisheries Franz Fischler also paid a visit to China last month, exploring the potential for expanding agricultural trade.

Prodi arrived in Beijing Tuesday for a four-day visit. He is scheduled to meet Chinese President Hu Jintao today before leaving for Shanghai tomorrow. His trip, the third official visit by a European Commission president, will be followed by those of another six European commissioners soon.

The frequent visits indicate the great importance the EU places on its ties with China and confidence it has in China's development, Prodi was quoted as saying by the Chinese spokesman.

The EU looks forward to seeing its strategic relations with China grow, Prodi said, expressing hopes the EU can become an even more important partner in trade, economics, and international affairs.

Prodi also pledged the EU will adhere to its one-China policy.

On May 1, the EU will undergo the largest expansion in its history, adding 10 new members to its current list of 15 countries.

The EU's expansion and China's on-going efforts to build a well-off society in an all-around way have both provided new and broad space for developing co-operation, Wen told Prodi.

Stressing the EU's role in regional and international affairs, Wen said that developing ties with the EU makes up an important part of China's foreign policy.

The two sides should use high-level visits to continue dialogue, including the seventh summit between China and EU in December to enrich and develop their relations, said Wen.

According to the Chinese spokesman, Wen also suggested the two sides should properly resolve major issues of concern via dialogue based on respect, equality and mutual benefit.

Starting in 1995, China and the EU conducted years of special discussions on human rights. Advocating conversation instead of confrontation, China has repeatedly hailed the EU's participation in the talks and expressed its willingness to continue.
Today's Top News
Top China News

Chen Shui-bian creates chaos in Taiwan




Cheney: US adheres to one-China policy




Wen, Prodi eye long-term good ties




4 US contractors killed, mutilated in Iraq




Bush vows US will finish job in Iraq




HIV/AIDS sufferers can receive free therapy