Grain production, farmers' income vital
(Xinhua)
Updated: 2004-04-13 23:51
President Hu Jintao has urged all local Party committees and governments to fully carry out the central policies of raising grain production and farmers' income, hoping to stabilize the fundamental status of agriculture in China's economy.
Hu said he was pleased to see farmers' enthusiasm for growing grain is on the rise, and reiterated the importance of grain farming during an inspection tour this week in Northwest China's Shaanxi Province. The tour ended Tuesday.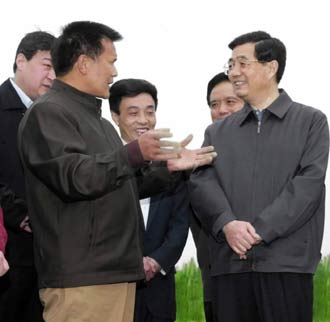 President Hu Jintao talks to farmers of the Chenguang Village, northwest China's Shaanxi Province. [Xinhua]
Touching the public with a "people first" principle, Hu's government has worked out a series of policies favouring its 900 million rural people, including purchasing grains at protected prices, subsidizing grain producers directly, stepping up supervision over price surges of production means for farming and cutting down on agricultural taxes.
The Chinese government has pledged 10 billion yuan (US$1.21 billion) this year from its grain risk fund to directly subsidize grain producers.
While checking the implementation of the new policies, Hu also noted the support of scientific technologies as a way towards the future prosperity for Chinese agriculture.
Meanwhile, the president also reassured local people of the government's determination to promote the strategy of developing its vast western areas, seeing the bumper harvest Shaanxi has achieved in the reforming, opening up and modernization drives.
He said the strategy would combine the development of scientific technologies, good economic profits, low energy consumption, environmental protection and optimization of human resources.
He also reminded western people to value their ecological environment more and to form a healthy industrial infrastructure and consumption methods that favour both resource saving and environmental protection, which echo the government's newly- advocated "scientific concept of development."
Today's Top News
Top China News

Cheney: US does not support Taiwan independence




HIV/AIDS sufferers can receive free therapy




Grain production, farmers' income vital




Beijing now nation's 'most wired'




'My boyfriend and I are both 12'




4 US contractors killed, mutilated in Iraq