4 Italian abducted, Chinese hostages freed
(Agencies)
Updated: 2004-04-13 21:34
Four Italians, working as private security guards for a U.S. company, are missing in Iraq, the ANSA news agency quoted the Foreign Ministry as saying Tuesday. An Arab satellite television network said the four were kidnapped by Iraqi insurgents.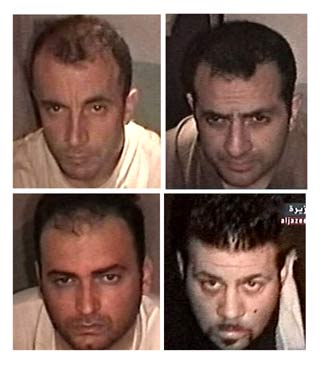 Television image aired April 13, 2004 by Arabic television Al Jazeera shows Italian hostages held by an Iraqi Islamist group which demanded that Italy withdraw its forces from Iraq. The four men in civilian clothes were shown seated on the ground and holding up their passports, surrounded by gunmen whose faces were covered by traditional Arab headscarves. [Reuters]
Elsewhere, eight employees of a Russian energy company seized by masked gunmen who broke into their house in Baghdad were released unharmed Tuesday after less than a day in captivity, the Russian Foreign Ministry said.
Dozens of foreigners from at least 12 countries have reportedly been kidnapped in recent days. Nine Americans were missing, including a Mississippi man whose abductors have threatened to kill him.
The Italian civilians worked for the U.S. company DTS Security, ANSA said.
Al-Jazeera satellite television said the men were abducted near Fallujah, 35 miles west of Baghdad. The network showed videotape of four men sitting in a room surrounded by gunmen wearing Arab headscarves.
Al-Jazeera said the four were kidnapped by the Green Brigade of the Prophet, one of the Mujahideen Brigades.
The kidnappers demanded that the Italian government and specifically Premier Silvio Berlusconi issue an apology for Italy's insult to Islam and Muslims, al-Jazeera said.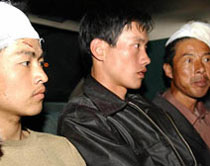 Three of the seven Chinese nationals released Monday April 12, 2004. [AP]

The broadcast also said the kidnappers demanded the withdrawal of Italy's 3,000 troops.

The abduction of the five Ukrainians and three Russians at their residence Monday appeared to be a new tactic by kidnappers. All the past kidnappings have come on the roads, with civilians whisked away after their vehicles come under attack.

Russian Foreign Ministry spokesman Alexander Yakovenko said that no one had claimed responsibility for the kidnapping and no demands were known to have been made prior to the release of the captives. The men work for the Russian energy company Interenergoservis, which is restoring a power plant near Baghdad.

"As a result of the efforts made during the past hours by the Russian side, all the specialists of Interenergoservis who were abducted on the evening of April 12 have been released," the ministry said in a statement.

It said the captives had returned to their residence in Baghdad and none had been hurt.

Ukraine has 1,600 troops helping keep security in southern Iraq. Russia has none and opposed the U.S.-led invasion of Iraq last year.

Yakovenko noted the U.S.-led coalition was responsible for maintaining security in Iraq.

"Abductions of foreign citizens in Iraq have resulted from a sharp escalation of tensions in the country, for the security of which the coalition authorities are now responsible," he said.

Meanwhile, the U.S. military said two American soldiers and seven employees of U.S. contractor Kellogg, Brown & Root were missing in Iraq. They disappeared after their convoy was ambushed Friday near Abu Ghraib, west of Baghdad.

Only one, Thomas Hamill, a 43-year-old truck driver from Mississippi, is known to have been abducted. His captors have threatened to kill and mutilate him unless U.S. troops ended their assault on the city of Fallujah. The deadline passed Sunday with no word on his fate.

The U.S. Department of Defense identified the two missing soldiers as Sgt. Elmer C. Krause, 40, of Greensboro, N.C., and Pfc. Keith M. Maupin, 20, of Batavia, Ohio. Both were assigned to the Army Reserves 724th Transportation Company, Bartonville, Ill.

Seven Chinese men abducted by gunmen in the city of Fallujah, west of Baghdad, were freed late Monday, the Chinese government said. A brief Foreign Ministry statement from Beijing said the men were released to an Iraqi religious group who passed them on to diplomats. "Their health and spirits are good," the statement said.

The seven had entered Iraq from Jordan on Saturday and were captured the next day, China's Foreign Ministry said.

China hasn't contributed troops to the U.S.-led military force in Iraq. The seven men are villagers who went to the Middle East on their own from east China's Fujian Province. State television said they didn't work for China's government or a state company.

In Tokyo, optimism faded Monday that three Japanese civilians abducted last week would be released quickly after a top government spokesman suggested authorities were no longer confident of their safety.

The Japanese hostages ¡ª two aid workers and a photojournalist ¡ª were being held by a previously unknown group calling itself the "Mujahedeen Brigades," which demanded Japan pull its troops out of Iraq within three days or it would burn them alive.

Koizumi has staunchly refused to consider the withdrawal, and the deadline came and went with no word on their fate.

Also Monday, a member of the U.S.-appointed Governing Council said at least 12 foreign hostages have been released. Mohsen Abdul-Hamid did not identify the nationalities of the released hostages or where they were.

However, a member of his office reached later said the number of those released was unclear.

Earlier, Muthanna Harith, spokesman for Islamic Clerics Committee, said insurgents had released nine hostages of various nationalities, including Turks and Pakistanis. It was not clear if he and Abdul-Hamid were referring to the same hostages, or if the Chinese were included in that number.

The nine were truck drivers for military supply convoys, which have come under heavy attack in recent days by gunmen on the western and southern outskirts of Baghdad.

Eight of the nine freed hostages appeared in a video broadcast Sunday on Al-Jazeera. The eight included two Turks, three Pakistanis, a Nepalese, a Filipino and an Indian. The identity of the ninth hostage was not immediately known.

Meanwhile, Thailand and New Zealand said their forces in Iraq had been confined to their quarters because of increasing unrest, and both governments said they were mulling whether to bring them home ahead of schedule.

Thailand's 443-member contingent of soldiers is scheduled to stay in Iraq until September. New Zealand has 60 army engineers in the southern city of Basra.
Today's Top News
Top World News

Visiting Cheney upholds one-China line




HIV/AIDS sufferers can receive free therapy




Beijing now nation's 'most wired'




Taiwan election recount possible by mid-May




'My boyfriend and I are both 12'




4 Italian abducted, Chinese hostages freed