Shanghai maglev track sinks slightly
(Shanghai Daily)
Updated: 2004-04-13 10:06
The track of the Shanghai Maglev Line is sinking, according to Shanghai Maglev Transport Development Company.
"We have been aware of the sinking of our maglev track, though very slightly," said Xia Guozhong, an official in charge of the company's media section on Monday.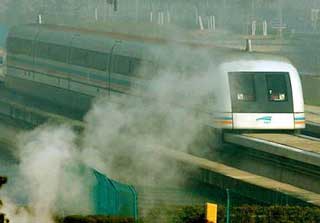 The world's first magnetic levitation train for commercial use, the Maglev, is showed in this Jan. 1, 2004 file photo in Shanghai, China. Tracks for Shanghai's 430-kph (270-mph) magnetic levitation train are reported to be sinking. [AP]

He declined to comment on what had caused the sinking or whether it would affect the operation of the city's maglev line - the world's first maglev in commercial use.

Some rail transport experts believe the sinking could be caused by either overpumping of underground water or faulty track foundations.

But they stressed that a slight sinking or "sinking within safe range" is normal and had occurred in the city's existing Rail Transport No.1 and No.2. It would not have severe consequences for the line's normal operation, they said.

Yu Jiakang, a senior engineer of Shanghai Tunnel Engineering and Rail Transit Design and Research Institute, said: "If the track sinks beyond its safety level, managers will have to stop the line's operation.

"Constructors can also halt the sinking of a rail track by re-consolidating its foundation," Yu said.

With a total investment of 8.9 billion yuan (US$1.07 billion), the 30-kilometer Shanghai Maglev Line, which uses German technology, links the bustling Pudong New Airport to Longyang Road Metro Station in about eight minutes.

But in the first week of daily all-day operation late last month, only about one-sixth of available tickets were sold, operators said.

On average, about 73 passengers travel on each trip of the train which has 440 seats. A normal ticket for each one-way trip costs 75 yuan.

Critics say the line's low traffic flow is caused by its expensive admission, poor market promotion and the line's limited distance.
Today's Top News
Top China News

New policy eases one-child restrictions




US VP Cheney arrives in China for 3-day visit




Seven Chinese kidnapped in Iraq are freed




Taiwan election recount possible by mid-May




Beijing to continue ban on ads in Tian'anmen




Expert: China's economy to grow by 9%