Booming business is bad for health
(Agencies)
Updated: 2004-04-13 09:33
It is well documented that when a company is on a downward spiral, the health of its workers suffers.
But a new Swedish study suggests that employees can also fall ill from worry and stress when their firm is on the upswing.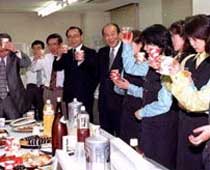 More staff in the office may not be cause for celebration. [AFP]

Staff in offices where the workforce is rapidly expanding are hospitalized more and have longer sick leave than those in firms who are not, according to research published in the British medical weekly, The Lancet.

The same study also found that women in the public sector suffer the most from a burgeoning payroll.

"Expansion is usually thought to imply high job security and a positive successful context, which should promote good health," said researcher Hugo Westerlund.

"However, a large and rapid expansion could lead to problems, such as difficulty in recruiting enough qualified personnel and a generally unstable and less than ideal organizational structure."

One reason for the results, Westerlund says, may be that in rapidly growing corporations workloads tend to outpace the headcount.

Bosses sometimes cannot replace people quickly enough, so employees take on more work leading to a rise in sick leave.

The study by Sweden's National Institute for Psychosocial Medicine looked at the long-term medical absences among 24,000 employees, from 1991-96.

They found that corporations that were hiring rapidly -- growing their staff numbers 18 percent or more per year -- had the highest levels of long-term sick leave of 90 days or more, including hospital admissions.

And workers exposed to repeat cycles of office expansion were seven percent more likely to have taken long-term sick leave and nine percent more likely to be hospitalized, compared to workers not put in that situation.

An editorial in the Lancet commented on the research saying, "modern employees are expected to be flexible, open to change and accept that a long-term relationship with an employer can no longer be expected."

"(But) surely there are many employers of high integrity, who understand that people are their greatest asset, and treat them accordingly."

In response to the survey Dr. Lewis Pepper of the Boston University School of Public Health, who has also done research on downsizing, told Health Day news that, "economic expansion...does not guarantee a positive outcome."

"The less control individuals have over their work process and workplace, the more likely it is that their health status will be affected negatively."

Westerlund suggests that managers can help their employees in cycles of growth by involving workers in any changes to prevent them feeling out of control.

He also told Reuters news agency that companies should consider taking a break in between rounds of reorganization, so that people can settle into the new structure.

And by linking up with doctors or psychologists who treat employees in an office, they may be able to single out and address those who might be most at risk from expansion, he says.
Today's Top News
Top World News

Seven Chinese kidnapped in Iraq are freed




New policy eases one-child restrictions




Beijing reaffirms stand against independence




One woman's torturous passage to America




China's foreign trade remains in deficit




Satellite gets rave reviews