One woman's torturous passage to America
By Raymond Zhou (China Daily)
Updated: 2004-04-12 23:38
It was the most harrowing journey in Wu Ying's life. She calls it "a narrow escape," or literally "nine deaths and one life" -- "jiu si yi sheng" in Chinese.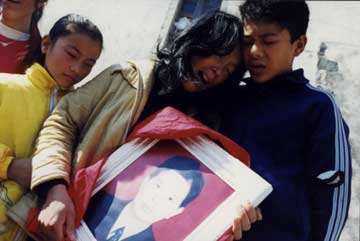 The wife and children of Lin Tonghui hold up his photo. Lin died in a tomato truck with 57 other stowaways from Fujian Province at the British port of Dover in June 2000. [newsphoto/file]
Three years ago, the 37-year-old Fujian woman decided to embark on the trip of her lifetime. Like thousands of her countrymen in Lianjiang, East China's Fujian Province, she was smuggled across the Pacific Ocean to the United States.
The trip carried a price tag of US$50,000, a sum hardly affordable for a farmer in rural Fujian. Half was as a down payment, and the remainder was payable upon arrival. Wu's husband had made it to the US several years earlier, and had saved some money. They also borrowed as much as they could from friends and relatives.
But the bulk of the money had to come from loans from the "snakehead" gang, which would gladly provides cash -- with a monthly interest rate of 2-3 per cent.
"I did not have a particularly strong urge to leave home. Life in Lianjiang was neither prosperous nor miserable. It was okay. I had two teenage sons to take care of. Of course I would have loved to join my husband and make more money," recalls Wu in a candid interview with China Daily.
"Everyone in my village was asking me when I'd take off, or why I had not already left. They were confused as to how I could sit still. I'm not the heady type. I don't want to take too many risk."
Part of the reason she finally decided to go was the offer of a safe and comfortable plane journey.
However, once she said goodbye to her parents and children, she fell into the hands of the gang and was at its mercy.
She was told by the ringleader that the plan had changed. There was no air route, they had to take a boat across the Pacific Ocean.
The trip dragged on and at some point, Wu stopped counting the days. All she remembers is that the whole trip took three months.
There were about 100 people like her on the boat, with men on the lower deck and women on the upper deck.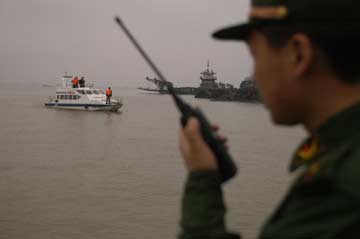 Border police at Wuhu, Anhui Province, monitor a ship suspected of carrying stowaways during an exercise targeted at illegal immigration. [newsphoto/file]
They were allowed to come out of their cabins while on the high sea, but whenever approaching a port or another vessel, they would be locked inside.
A few weeks into the journey, the boat started leaking. The crew attempted to fix the problem but to no avail. The passengers learned of the dilemma and for a few days Wu, like many of her fellow passengers, thought they would drown.
"The sense of doom weighed on me so heavily that I couldn't even cry out loud. I sobbed, but most of the time I just felt so helpless," she says in a low voice.
But her luck turned for the better when the crew successfully contacted another ship with a human cargo, which was nearby. It came to their rescue. All passengers on the leaking ship were transferred.
"It's not that the snakeheads valued our lives, but we would be worth twice as much alive than dead. Besides, it's bad for their business if people end up becoming fish fodder," Wu says.
But one passenger did not make it. "He died of illness," Wu explained, adding that it could have been much worse as the trip lasted about one week longer than expected. Food and water had started to run out. "I thought we were going to starve to death."
When they finally came ashore, Wu thought she had arrived in America. "Hunger was causing hallucinations. Any place would have looked like the America that I had dreamed of."
It was not the United States but the American continent. "I didn't know -- and I still don't know -- which country it was. Most probably Mexico or some other Central American country."
But Wu was certain when she was crossing the border into the US a couple of weeks later, "because we were hidden at the bottom of a cargo trailer, with tons of stuff on top of us. We all had to lie face down, with hardly any space to turn sideways. I didn't know whether I'd be crushed to death or suffocate. I'm positive that several of us would have died if the driver had not left one of the covers slightly opened."
When the border guards checked the vehicle, they did not notice the false floor. Wu and her fellow passengers reached a designated safe house. She was allowed to make a phone call to her husband, who came from New York to pay the balance of the cost of the trip -- US$25,000 -- before she was able to go.
Once out of the clutches of the snakeheads and with a US$50,000 debt, Wu started on the next journey.
As Wu's husband was also an "illegal alien," with his application for "adjustment of status" denied, and she was far from a rich businesswoman, a top scientist or an artist, Wu had no option but to try to immigrate as a "political asylum seeker," as she was told by a local lawyer.
But the person was not actually a lawyer and was willing to fabricate documents to support whatever claims his "clients" wanted to make.
Wu was persuaded to say she was a Falungong practitioner, which was the "victim" du jour with the US immigration system.
There was a slight catch, though. Wu, like her husband, had received assistance from a church when they were "fresh off the boat" and had no one to turn to. Deeply moved, they took Christianity on as their religion. And as Christians, they were repulsed by Falungong.
That might have been a factor at Wu's immigration trial, when the judge probed her about details of her alleged Falungong beliefs. She did not show a lot of conviction when reciting her rote-learned answers and her application for political asylum was denied.
As the couple had no chance to obtain driver's licences, due to them being illegal aliens, and as the job market in the New York area was extremely grim due to an oversupply by boatloads of new arrivals, Wu and her husband decided to head to Boston.
They got jobs in Chinese restaurants, where they do the most menial tasks. Wu makes US$1,200 a month clearing tables and her husband, who helps in the kitchen, gets $1,400. They toil for up to 12 hours a day, six days a week.
They live in a low-rent slum and often walk to work, getting lifts home with co-workers.
Besides rent, they spend next to nothing on themselves to save most of their incomes.
It will take them up to five years before they can pay off the smuggling debt.
Meanwhile, their sons, now 18 and 15, still reside in Lianjiang with their grandparents.
Wu said: "I don't know whether we should try to bring them here or not. Our financial burden is already back-breaking. Besides, how can we expect them to work the way we do? Compared with the way we work and live here, life in China seems so easy."
Today's Top News
Top China News

New policy eases one-child restrictions




Cheney upholds one-China line




Seven Chinese kidnapped in Iraq are freed




Taiwan election recount possible by mid-May




Beijing now nation's 'most wired'




HIV/AIDS sufferers can receive free therapy