7 Chinese kidnapped in Iraq; top leaders urge release
By Shao Zongwei (China Daily)
Updated: 2004-04-12 23:38
Rescue efforts using all available means are under way in Iraq to free seven Chinese kidnapped by unknown armed men in Falluja.
Sun Bigan, head of the team responsible for the re-establishment of the Chinese Embassy in Baghdad, has urged the Iraqi side to assist authorities in finding the Chinese hostages under the precondition of ensuring their safety.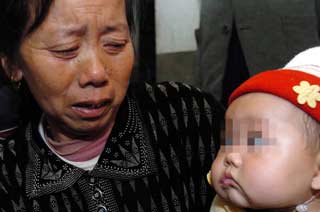 Family members of Li Guiping, a Chinese citizen kidnapped in Iraq, weep during an interview with reporters. [Xinhua]
When calling the newly appointed interim Iraqi Interior Minister Samir Sumaydah, Sun asked that all necessary measures be taken to identify the kidnappers and find the whereabouts of the Chinese hostages. He also conferred with responsible persons in the Iraqi Foreign Ministry Monday.
Meanwhile, the Chinese mission in Iraq has contacted officials of the interim Iraqi governing body as well as other people in other spheres of influence, hoping their actions can move freeing the Chinese forward.
"We have been informed by friends that the Chinese hostages are still in Iraq and their lives are not under threat," Sun indicated during an interview with the China Central Television.
Seven Chinese from East China's Fujian Province were said to have been abducted on a highway from Iraq's northern city of Mosul to Falluja on Sunday and possibly held in Falluja on Monday.
The seven, all male farmers between 18 and 49 years of age, are Xue Yougui, Lin Jinping, Lin Kongming, Li Guiwu, Li Guiping, Wei Weilong and Chen Xiaojin. They left Jordan for Iraq on Saturday.
The seven, coming from Pingtan County, were abroad for "private purposes."
There are no Fujian labourers dispatched to Iraq now, according to an official with the Fujian provincial foreign trade and economic co-operation department.
Sources with the Chinese diplomatic team in Iraq, when reached by China Daily, said they were still not sure about the exact purpose of the hostages' trip to Iraq.
Early reports from Al Arabiya TV quoted witnesses as saying the Chinese captives were in good health and not handcuffed.
In Beijing, the abduction has aroused concerns among Chinese leaders. According to the Foreign Ministry, President Hu Jintao and other Chinese leaders have already instructed the ministry and Chinese diplomatic mission in Baghdad to make sure the hostages are safe and urged utmost efforts in rescuing them.
The Chinese hostages are among the latest foreign captives held by Iraqi armed men, who are apparently hoping to pressure US forces to negotiate a ceasefire or fully withdraw from their occupation of Iraq.
A militant group called Mujahedeen Brigades is holding three Japanese hostages and has threatened to burn them alive unless the Japanese government withdraws its troops from Iraq. On Sunday, a 37-year-old British civilian contractor, Gary Teeley, and eight others held by Iraqi kidnappers were released.
The Chinese Foreign Ministry Monday discouraged the nation's citizens from traveling to Iraq "in view of the current situation."
A warning on the ministry's website also cautioned Chinese in Iraq to enhance self-protective measures and to stay in touch with the Chinese mission in Baghdad. The phone numbers are 001-914-8227530 and 8227529.
The Beijing Youth Daily Monday reported that against the backdrop of the recent surging in kidnapping cases, Chinese companies engaged in the reconstruction of war-torn Iraq have strengthened measures to ensure safety. They have reduced unnecessary outings and hired local armed security personnel.
China pledged US$25 million of humanitarian assistance to Iraq in October of last year, in addition to promising that the Chinese enterprises will play an active role in the reconstruction of Iraq.
China, a permanent member of the United Nations Security Council, has all along opposed military action to resolve the Iraqi issue.
China has no military troops in Iraq.
Conflicts between the US-led coalition and the Iraqis have intensified of late. Following the killing of four Americans and the mutilation of their bodies on March 31, US Marines have surrounded Falluja to hunt down the insurgents.
US military figures show that a total of 70 coalition soldiers and 700 Iraqis have been killed in clashes in Iraq since the beginning of this month.
Today's Top News
Top China News

7 Chinese kidnapped in Iraq; top leaders urge release




Beijing reaffirms stand against independence




One woman's torturous passage to America




China's foreign trade remains in deficit




Satellite gets rave reviews




Newsweek poll: Kerry leads Bush by 7 points