Road accidents kill 300 a day in China
(Shanghai Star)
Updated: 2004-04-12 15:51
Latest research shows that every day in China at least 300 people are killed in traffic accidents, ranking the country top in the world for both the death toll and the death rate. And the figure is accelerating by 10 per cent every year.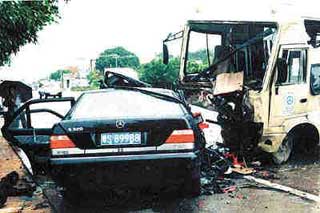 Road accidents like this happen every day across China, causing high death toll. [Shanghai Star]

According to research, conducted by the Medical School of Jinan University in Guangzhou, the figure for all traffic accidents in China in 1951 was around 6,000. Fifty years later, in 2001, it had leapt to 750,000. Last year the figure was more than 770,000, with 110,000 people losing their lives and 560,000 injured.

The direct economic losses were estimated to be more than 3.3 billion yuan (US$397 million). The figures also showed that more than half the dead were aged between 16 and 45.

"It was a little ironic as the overall number of vehicles in China is far smaller than that in Western countries, while the death rate from road accidents is much higher," said an academic surnamed Wang who was quoted in the China Youth Daily.

"According to our research, the death toll and death rate per 10,000 automobiles here is eight times more than that in America," he said.

The most important factor was still the negligence of drivers. Statistics showed that last year some 78.5 per cent of the deaths, about 86,000 people, were caused by improper driving.

Punishment for negligent drivers is said to be too lenient due to a failure of the relevant laws to catch up with current conditions.

The relatively low speed in road construction compared with the rapid increase in the number of cars was another reason given for the large number of accidents.

In the decade leading up to 2001, the overall length of road constructed in China only increased by 30 per cent while total road passenger volume and road cargo volume went up by 120 per cent and 46 per cent respectively. The number of cars on the roads over the same period more than quadrupled from 15 million to 68 million.

"In a situation where most roads are still of low standard and lack necessary safety equipment, it can be hard to keep the number of traffic accidents down," the academic said.

A shortage in the number of traffic police also increased the "boldness" of some drivers who drove above the speed limit.

On World Health Day on April 7, the World Health Organization has "Road Safety" as this year's theme.

According to WHO statistics, every year more than 1.2 million people are killed in traffic accidents, with many more injured who will have lifelong physical handicaps.

According to a WHO forecast, traffic accidents will rank as the third biggest cause of deaths by 2020. The road toll is now ranked in ninth position.

Most of the deaths will still occur in developing countries like China and although most of the people have to walk or use a bicycle or motorcycle because they cannot afford a private car, the increasingly busy roads will make them more vulnerable to death or injury.

Today's Top News
Top China News

China urges for release of citizens kidnapped in Iraq




300,000 people protest Taiwan election




Prosecutors team up to snag corruption




China posts $8.43b in 1st-quarter trade deficit




Road accidents kill 300 a day in China




Newsweek poll: Kerry leads Bush by 7 points