Live poultry trade resumes in Beijing
(China Daily)
Updated: 2004-04-12 09:27
A vendor shows a chicken to a customer at the Baliqiao market in Beijing on Saturday, after the city allowed the resumption of the live poultry trade.
But retailers at the market said there were more questions than sales at the weekend as the nation puts the potentially fatal bird flu disease behind it.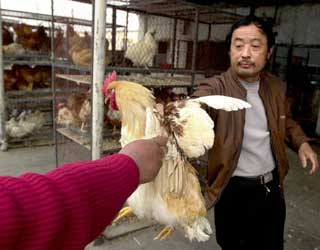 A customers buys a chicken at a live poultry market in Beijing on April 10 when the ban on poultry trading is lifted. [Xinhua]

Although the trade has recommenced at most of Beijing's markets, only one the Yuegezhuang market in the city's southwestern suburbs is allowed to slaughter poultry on the spot.

All the others are forbidden to kill and clean birds for customers, which is having a huge impact on business.

Vendors say people do not want to slaughter and clean the animals in their own homes, so they only ask for prices instead of making purchases.

Some city markets have decided to wait and are not even offering live poultry, like the Dongjiao agricultural products market. "We want to wait until the situation improves further," a staff member with the market's management department said.

China lifted restrictions on the last two bird flu quarantined areas on March 16, but officials - while announcing the news - said no efforts should be spared to prevent and control a resurgence in the disease.

Nearly 9 million birds have been slaughtered since the first case in the country was confirmed in Dingdang Town in Long'an County, South China's Guangxi Zhuang Autonomous Region, on January 27.

During the outbreak of the disease, the Chinese Government used a series of measures to protect the areas that were not affected by bird flu, and to control the spread of the disease.

Preventive measures included the disinfecting of chicken farms and their surroundings, the separating of fowl from livestock, and ensuring that the appropriate vaccinations were being administered and the necessary medical examinations carried out.

During that time, farmers who run small-scale chicken operations paid more attention to hygiene and vaccinating their birds when necessary.

They also underwent inspections from animal quarantine groups and were required to report to local authorities if they found bird flu on their properties.

Outbreaks can occur during any season, but are more likely in winter and spring, according to experts from the National Bird Flu Prevention Headquarters, which was founded in late January to deal with the problem.

They explained that the virus, which is sensitive to temperature, cannot live for long in a hot environment. It is killed by ultra-violet rays in sunshine.
Today's Top News
Top China News

Seven Chinese citizens kidnapped in Fallujah




300,000 people protest Taiwan election




PLA brass decides on high-tech innovations





Prosecutors team up to snag corruption





Personal cheques to flourish in China




Newsweek poll: Kerry leads Bush by 7 points