Fragile cease-fire holds in Fallujah
(Agencies)
Updated: 2004-04-12 08:27
A fragile cease-fire held between Sunni insurgents and U.S. Marines on Sunday in the besieged city of Fallujah, where Iraqis said more than 600 civilians were killed in the past week. Near Baghdad, gunmen shot down a U.S. attack helicopter, killing two crewmembers.
Also, the military suggested it is open to a negotiated solution in its showdown with a radical Shiite cleric in the south.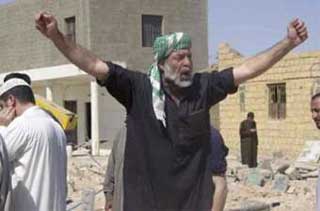 An Iraqi shouts his anger over the grave of his son, buried in a soccer field turned into a cemetery in Fallujah, Iraq, Sunday, April 11, 2004. More than 600 Iraqis have been killed in the fighting in Fallujah the past week, the head of the city's hospital said Sunday. [AP]
Most of the Iraqis killed in Fallujah in fighting that started last Monday were women, children and elderly, the director of the city hospital, Rafie al-Issawi, told The Associated Press. A U.S. Marine commander disputed that, saying most of the dead were probably insurgents.
Fallujah residents took advantage of the lull in fighting to bury their dead in two soccer fields. One of the fields had rows of freshly dug graves, some marked on headstones as children or with the names of women.
The Fallujah violence spilled over to the nearby western entrance of Baghdad, where gunmen shot down an American AH-64 Apache helicopter. As a team moved in to secure the bodies of the two dead crewmen, a large force of tanks and troops pushed down the highway outside the Iraqi capital, aiming to crush insurgents.
Gunmen have run rampant in the Abu Ghraib district west of Baghdad for three days, attacking fuel convoys, killing a U.S. soldier and two American civilians and kidnapping another American.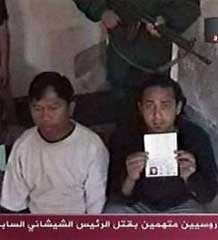 A television image aired by an Arabic television station April 11, 2004 shows two of eight foreign men described as truck drivers who were held hostage in Iraq and have been released. [Reuters]

The captors of Thomas Hamill, an American who works for a U.S. contractor in Iraq, threatened to kill and burn him unless U.S. troops end their assault on Fallujah, west of Baghdad, by 6 a.m. Sunday. The deadline passed with no word on Hamill's fate.

The Arab TV station Al-Arabiya reported that insurgents kidnapped seven Chinese north of Fallujah on Sunday evening, citing Chinese diplomatic sources. No further details were immediately available.

Insurgents who kidnapped other foreigners this week began releasing some captives. A Briton was freed, and other kidnappers said they were freeing eight captives of various nationalities. Other insurgents who kidnapped two Japanese men and a woman said Saturday they would free their captives within 24 hours, but they had not been freed by Sunday night.

The U.S. military on Sunday reported 12 more U.S. soldiers killed in fighting on Friday and Saturday ¡ª half of them in Baghdad. The deaths brought to 59 the number of American soldier killed since the new fronts of violence erupted April 4. Nearly 900 Iraqis have been killed in the same period. At least 661 U.S. soldiers have died in Iraq since the war began in March 2003.

Sporadic battles in Fallujah wounded two Marines, and the bodies of 11 Iraqis were brought to a mosque being used as a clinic. A Marine spokesman said troops responding to Iraqi fire killed "a significant number" of fighters. A Cobra helicopter fired rockets and missiles after it came under ground fire, he said.

But Fallujah was still the quietest it has been since the U.S. offensive began.

Hundreds of Marine reinforcements moved in around Fallujah, joining 1,200 Marines and 900 Iraqis already there. The military has warned it may resume an all-out assault against Sunni insurgents if negotiations focused on extending the cease-fire and restoring police control of the city fall through.

U.S. President Bush, attending an Easter Sunday service at a chapel at the U.S. Army base Fort Hood, Texas, braced Americans for the possibility of more casualties in Iraq while saying the U.S.-led mission is just.

"It was a tough week last week and my prayers and thoughts are with those who pay the ultimate price for our security," the president said.

But he said the United States was "open to suggestions" about resolving the siege, referring to negotiations between Iraqi politicians and Fallujah city officials that continued Sunday.

Governing Council members were holding discussions with followers of radical Shiite cleric Muqtada al-Sadr, whose militia rose up in a bloody revolt this week against coalition troops and largely controls three southern cities, Karbala, Kufa and Najaf.

The south was relatively calm, as up to 1.5 million Shiite pilgrims marked al-Arbaeen, one of the holiest days of their religious calendar, in Karbala on Sunday, with al-Sadr militiamen and other gunmen keeping security in the streets.

U.S. commanders have said they would delay any action against al-Sadr until after the ceremonies, which ended Sunday. But U.S. officials for the first time suggested there were open to a nonmilitary solution to the confrontation.

U.S. coalition spokesman Dan Senor would not comment on Iraqi talks with al-Sadr's followers but added, "I would say that our goal is to minimize bloodshed and to head off any sort of conflict."

"We don't see it as a necessary requirement that any military action has to occur in Najaf," Brig. Gen. Mark Kimmitt told reporters.

U.S. troops retook the city of Kut from al-Sadr followers in the past three days, in the first major foray in months by the American military into southern Iraq, where U.S. allies have security duties.

But military action to retake the other cities could require fighting near some of Shiite Islam's holiest shrines, raising the possibility of enflaming Shiite anger at the U.S.-led occupation.

"There are many ways for the town of Najaf to come back under legitimate control of the Iraqi government, coalition provisions authority and that don't involve any fighting at all," Kimmitt said.

U.S.-allied Iraqi leaders have increasingly expressed anger at the bloodshed in Iraq over the past week, saying the military has used excessive force.

Over a third of the city's 200,000 residents fled the city during the lull, Marines said. Fallujah hospital's al-Issawi said the number of Iraqi dead in the city was likely higher than the 600 recorded at the hospital and four main clinics in the city.

"We have reports of an unknown number of dead being buried in people's homes without coming to the clinics," he said.

Bodies were being buried at two soccer fields. At one of the fields, dubbed the "Graveyard of the Martyrs" by residents, an AP reporter saw rows of freshly dug graves with wooden planks for headstones over an area about 30 yards wide by more than 100 yards long.

Khalaf al-Jumaili, a volunteer helping bury bodies at the field, said more than 300 people had been interred there. Volunteers were seen carrying bodies in blankets and lowering them into graves while bystanders shouted, "Martyr, martyr!"

It was not known how many were buried at the other soccer field.

Asked about the report of 600 dead, Marine Lt. Col. Brennan Byrne said, "What I think you will find is 95 percent of those were military age males that were killed in the fighting."

"The Marines are trained to be precise in their firepower .... The fact that there are 600 goes back to the fact that the Marines are very good at what they do," he said.

At least five Marines have died in the Fallujah fighting.

The most serious break in Sunday's peace came when a sniper opened fire on U.S. patrol, wounding two Marines, commanders said. In the ensuing gunbattle, at least one insurgent was killed.

"At the moment we're just trying to get the cease-fire in place," L. Paul Bremer, the top U.S. civilian administrator in Iraq, said Sunday on ABC's "This Week." "What were trying to do is simply get the forces to stop firing."

During the lull, Marines distributed food to residents. At least three convoys of food and medicine were brought into the mostly Sunni city, including one organized by Shiite leaders in Baghdad as a sign of unity.
Today's Top News
Top World News

Seven Chinese citizens kidnapped in Fallujah




300,000 people protest Taiwan election




PLA brass decides on high-tech innovations




Prosecutors team up to snag corruption




China posts $8.43b in 1st-quarter trade deficit




Newsweek poll: Kerry leads Bush by 7 points