9 hostages freed in Iraq, Japanese still held
(Agencies)
Updated: 2004-04-12 08:22
A British contractor was freed by Iraqi kidnappers on Sunday and an Iraqi group said it had released eight other foreign hostages.
But the fate of three Japanese and an American captive remained unclear and there was a report of a fresh group kidnapping in central Iraq.
China's official Xinhua news agency quoted a Chinese diplomat in Baghdad as saying seven Chinese were "kidnapped by armed men" on Sunday. There were no further details.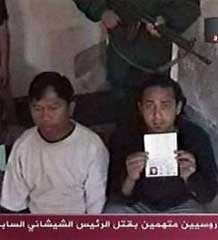 A television image aired by an Arabic television station April 11, 2004 shows two of eight foreign men described as truck drivers who were held hostage in Iraq and have been released. [Reuters]

Iraq has seen a wave of hostage-taking over the last week as violent confrontations with Sunni and Shi'ite rebels ignited across the country ahead of a June 30 deadline for the U.S.-led administration to hand power to an interim Iraqi government.

In a videotape aired by Arabic television station Al Jazeera on Sunday, a masked man announced the release of the eight foreign men described as truck drivers who had supplied "the forces of the enemy."

"We have released them in response to a call from the Muslim Clerics Association...after we were sure that they will not deal with the occupation forces again," the man said.

Looking frightened, the men -- three from Pakistan, two Turks, an Indian, a Nepali and a Filipino -- read out their names, nationalities and ages on camera while their armed captors, faces masked, stood behind them.

Coalition Provisional Authority officials in Iraq said they had no immediate information on the hostages release.

Earlier on Sunday, British contractor Gary Teeley, seized by suspected militants in the southern Iraqi city of Nassiriya last week, was handed over to U.S.-led forces, officials said.

"He is in the hands of American and Italian forces in Nassiriya as we speak. We'll be making sure that he is flown out of the country and back to Britain as soon as possible," said a senior source in the coalition forces.

In London, a British Foreign Office spokesman said Teeley, a father of five missing since last Monday, was "safe and well."

Al Jazeera reported that local tribes had been involved in negotiating his freedom. Italian Army Lieutenant Colonel Moneduro told Sky News the operation to free Teeley began with an attack on the military headquarters of radical Shi'ite cleric Moqtada al-Sadr's Mehdi army.

"After two other kinds of operations and investigations we put some pressure on these armed groups and also through negotiations we arrived at the release of Mr Gary Teeley," Moneduro said.

FAMILY'S JOY

"(The news has) still not sunk in at the moment. I am just grinning from ear to ear. I am so happy," Terry Teeley, a cousin of the British contractor, told Sky News television.

An Iraqi group told another Arabic channel on Saturday it would behead 30 foreign hostages it was holding unless U.S. forces ended a blockade of Falluja, a town west of Baghdad.

Japan's government was told on Sunday that three Japanese hostages were safe but were still being held by militants who abducted them last week, Kyodo news agency reported.

Al Jazeera said militants holding the Japanese would begin killing them unless their demands -- including the withdrawal of Japanese troops from Iraq -- were met within 24 hours.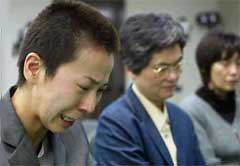 Ayako Inoue (L) and other relatives of three Japanese hostages captured in Iraq weep during an interview in Tokyo April 11, 2004. [Reuters]

Japanese Prime Minister Junichiro Koizumi was confronted with the biggest test of his political career when a previously unknown group released a video on Thursday showing the three, blindfolded and with a gun to their heads.

Koizumi had vowed not to give in to the abductors, who had demanded that Japan withdraw its military from Iraq within three days of the video's broadcast. Japan has about 550 ground troops in Iraq involved in reconstruction and humanitarian work.

The hostages are freelance reporter Soichiro Koriyama, 32, aid worker Nahoko Takato, 34, and Noriaki Imai, 18, who wanted to look into the effects of depleted uranium weapons in Iraq.

Kidnappers on Saturday also threatened to execute a U.S. hostage, who identified himself as Thomas Hamill, unless American forces lifted the siege of Falluja, according to another tape aired on Al Jazeera.

Hamill said he worked for a private company which had dealings with the U.S.-led coalition in Iraq. The group holding him was named as "the Mujahideen Group - Kidnappings."

If U.S. troops did not end its siege of Falluja, a bastion of insurgency, "he will be dealt with worse than those who were killed and burned in Falluja," a voice in the message said.

Iraq has seen an escalation in fighting after the mutilation of four U.S. contractors killed in a Falluja ambush in March.
Today's Top News
Top World News

Seven Chinese citizens kidnapped in Fallujah




300,000 people protest Taiwan election




PLA brass decides on high-tech innovations





Prosecutors team up to snag corruption





Personal cheques to flourish in China




Newsweek poll: Kerry leads Bush by 7 points