Bordeaux growers think unthinkable
(Agencies)
Updated: 2004-04-12 08:18
Wine producers in Bordeaux are starting to think the unthinkable as they try to halt a plunge in sales of one of the world's most prestigious tipples.
Growers and sellers are considering tearing up some vineyards, changing their ways to adapt to markets and consumer tastes and -- painful as it is to admit for the aristocrats of the world wine trade -- improving the quality of their product.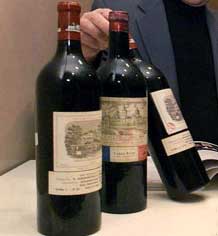 Sales of French fine wines continue to drop -- even among the French. [AP/File]

The measures were put forward at a closed-door meeting over the last few days of 300 professionals gathered in this southwest French city, whose name is synonymous with fine wine.

Sales of Bordeaux are down to about 5.7 million hectolitres (125 million Imp gallons) last year from 6.4 million in 1998 and the Interprofessional Council for Bordeaux Wines (CIVB) trade body expects a further drop this year. Some five to 10 percent of the region's 9,000 producers are facing serious difficulties.

The French, who buy 60 percent of Bordeaux's wine, are drinking less for health reasons. Sales abroad are suffering from the euro's strength against the dollar and competition from foreign wines of better quality more adapted to consumer tastes.

At the latest meeting, getting rid of some Bordeaux vineyards was not promoted -- but neither was it ruled out.

"There was unanimity that uprooting of vineyards is not a goal as such but one of several elements to improve the quality," said Roland Feredj of the CIVB.

The taboo subject of the poor quality of many Bordeaux wines sold in large volume distribution and for export was also addressed at the meeting.

Labels featuring non-existent chateaux should be eliminated and it should be compulsory to bottle wines in the region of production, participants said.

To relaunch Bordeaux wines, the CIVB wants to create an "economic observatory" to monitor market trends.

The professionals also aim to set up a body to maintain stock levels of quality wines to cope with unexpected events such as bad weather.

Promotional activities would include developing "wine tourism," considered to have lagged in the Bordeaux region.
Today's Top News
Top World News

Seven Chinese citizens kidnapped in Fallujah




300,000 people protest Taiwan election




PLA brass decides on high-tech innovations





Prosecutors team up to snag corruption





Personal cheques to flourish in China




Newsweek poll: Kerry leads Bush by 7 points