Japan denies report of hostages release
(Agencies)
Updated: 2004-04-11 10:11
Japan's Senior Vice Foreign Minister Ichiro Aisawa on Sunday denied that three Japanese nationals taken hostage by a militant group in Iraq had been released.
Aisawa, who heads a task force on the hostage crisis at the Japanese Embassy in Amman, told reporters he "has yet to confirm" the release, whereabouts and safety of the three, Kyodo News reported.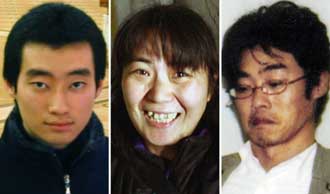 Undated file photos show the three Japanese civilians taken hostage on April 8, 2004 by an Iraqi group. From left to right, Noriaki Imai, 18, Nahoko Takato, 34, and Soichiro Koriyama, 32. A previously unknown Iraqi group released a video of the hostages on Thursday and vowed to "burn them alive" if Japanese troops did not leave Iraq within three days. [Reuters]

The Arabic satellite news channel Al-Jazeera denied that it reported earlier that the hostages had been released.

The broadcaster reported Saturday that the kidnappers announced the hostages would be freed within 24 hours.

Reports say Japanese hostages in Iraq released, no official confirmation yet

Jiji news agency reported, claiming to cite Al-Jazeera TV, that three Japanese hostages held by Iraqi insurgents were set free near Fallujah on Sunday.

The three Japanese taken hostage in Iraq were said to be released in the early morning on Sunday, three days after their kidnappers threatened to kill them unless Japan withdraws its troops from Iraq.

Government spokesmen declined to confirm the reports, but suggested an end was in sight to a crisis that began dramatically with the release of a videotape showing the three hostages surrounded by heavily armed men.

The families of the three _ two aid workers and a photojournalist _ said they were relieved but still anxious.

A ``high-ranking'' Iraqi official has informed the government that the Japanese hostages will be released unharmed at a yet-unconfirmed location by about noon Japan time (0300 GMT), Kyodo News and other national media reported, citing unidentified Japanese government officials.

The reports Sunday morning came hours after the Arabic news channel Al-Jazeera said it had received a statement from the kidnappers saying the three would be freed within 24 hours.

Kyodo quoted Foreign Minister Yoriko Kawaguchi as saying the government had confirmed ``from several sources'' that the hostages would in fact be released but had no information about the timing.

Spokesmen for the Foreign Ministry and the Prime Minster's Office told The Associated Press they had no knowledge about if or when the hostages would be released. The three left Jordan Tuesday night by car but never reached their planned destinations.

Al-Jazeera reported that mediation by a Sunni Muslim organization, Islamic Clerics Committee, prompted the about-face by the kidnappers. They had announced Friday night they would burn the hostages alive if Japan did not withdraw a contingent of troops it sent to Iraq in January to help rebuild the country _ something the Japanese government refused to do from the start.

``We can't be at ease until their safety is assured,'' Vice Foreign Minister Yukio Takeuchi was quoted as saying by Kyodo News. ``We need to act with caution.''

But the families of the hostages held an early-morning news conference after the al-Jazeera report to express their relief.

``I won't be at ease until I see his face, but I'm very happy,'' said Kimiko Koriyama. Her son Soichiro was in Iraq reporting for a Japanese weekly newsmagazine when he was seized with the two other hostages.

Shuichi Takato urged her sister Nahoko, a 34-year-old aid worker, to ``hang in there just a little longer.''

The families also issued a statement thanking Al-Jazeera, the Islamic Clerics Committee, and ``our friends throughout the world'' for their help.

Prime Minister Junichiro Koizumi stood firm in his refusal to not to pull the Japanese troops out of Iraq, saying he would not bow to demands from terrorists.

His government had conducted a frantic diplomatic campaign for the hostages' release before the deadline.

In a videotaped message dubbed in Arabic, Foreign Minister Kawaguchi urged the hostage-takers overnight Saturday to release the three.

Japan also was expected to ask US Vice President Dick Cheney, who arrived for a previously scheduled visit, for Washington's help in finding the hostages and securing their freedom.

``The entire Japanese nation is waiting for the three hostages to be released immediately,'' Kawaguchi said, according to an English transcript of her message. ``The three Japanese hostages are private individuals and are friends of Iraq.''

Japanese envoy Senior Vice Foreign Minister Ichiro Aisawa arrived in Jordan early Saturday to coordinate efforts to secure the hostages' freedom.

Koizumi himself adopted a low profile, making no public appearances or remarks to the media. He declined repeated requests from the families of the hostages for a meeting, assuring them the government was tackling their case in earnest.

The families had been growing anxious as the deadline neared.

``If the way to resolve this is for Japan to pull out its troops, then that's what we want Koizumi to do,'' said Ayako Inoue, Takato's younger sister. ``There's no time.''

Footage delivered to The Associated Press and the Arabic news channel Al-Jazeera Thursday showed Takato, Koriyama and 18-year-old aid worker Noriaki Imai blindfolded and threatened by masked men with guns and knives. Al-Jazeera also received a statement saying the hostages would be burned alive if Japan's troops were not pulled out from Iraq within three days.

The hostage crisis has severely tested Koizumi, who committed about 1,000 Japanese personnel, including 500 ground troops, to the Iraq mission against strong domestic opposition. Critics worried the forces could be dragged into a war in violation of Japan's pacifist constitution.

A public opinion poll conducted by Kyodo News on Friday and Saturday showed 45.2 percent of voters opposed Koizumi's refusal to withdraw troops, while 43.5 percent supported him. As is customary in Japan, the agency provided no margin of error for the survey.
Today's Top News
Top World News

Personal cheques to flourish in China




Likely Sino-Indian FTA conducive to nation




Big rally demands inquiry into shooting




Japan denies report of hostages release




Bush warned of al-Qaida plot before 9/11




Pressure on students causes social problems