Iraq insurgents threaten to kill American
(Agencies)
Updated: 2004-04-11 08:41
Insurgents who kidnapped an American civilian threatened in a videotape released Saturday to kill and mutilate him unless U.S. forces withdraw from the city of Fallujah.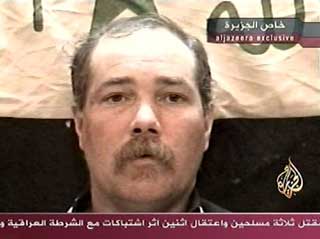 A television image aired on an Arabic television station April 10, 2004 shows a U.S. hostage in front of an Iraqi flag who Qatar-based Al Jazeera television said identified himself as Thomas Hamill. His Iraqi kidnappers said in the tape they will kill the U.S. hostage they are holding unless U.S. forces lift the siege of Falluja. The Pentagon had said on Friday several civilian contractors and two U.S. soldiers were missing after a military fuel convoy was ambushed on the main highway west of Baghdad.[Reuters]

Meanwhile, insurgents holding three Japanese hostages said they would be freed in 24 hours. The captors had threatened to burn the civilians alive unless Japan pulled its troops out of Iraq, a demand Japan refused.

The tape of the American, broadcast on the Arab TV station Al-Jazeera, showed him identifying himself as Thomas Hammil, 43, from Mississippi. In other footage with no audio, he stood in front of an Iraqi flag, his expression calm but wary as his captors announced their threat on his life.

A voice-over read by an Al-Jazeera announcer quoted Hammil as saying he works for a "private company that supports the military action" ! a likely reference to U.S. firms that provide security in Iraq.

"I am in good shape," the voice-over said. "They were good to me. They gave me antibiotics. I have no idea what is going on Fallujah. I hear there is a siege and people are living in some sort of prison."

"I hope to return home one day, and I want my family to know that these people are taking care of me, and provide me with food, water and a place to sleep."

Hammil stood in front of the red-white-and-black Iraqi flag, its emblazoned slogan "God is great" prominent above his head. His eyes darted back and forth, but he appeared calm.

His captors warned he would meet a worse fate than four American civilians killed in Fallujah on March 31, their bodies burned and mutilated by a mob, unless U.S. forces end their assault on the city "within 12 hours, starting 6 pm" ! 10 am Saturday, EDT.

"At the end of this period, he will be treated worse than those who were killed and burned in Fallujah," the voice-over said.

Hammil was snatched Friday by gunmen who attacked a fuel convoy he was guarding on the main highway on Baghdad's western edge, the latest in a string of kidnappings in Iraq. Footage released earlier Saturday showed him being whisked away in a car, a gunman in the back seat with him waving an automatic weapon.

Brig. Gen. Mark Kimmitt refused to comment Saturday on efforts to free Hammil or other captives, saying it "would not be helpful to discuss" any plans.

Meanwhile, other insurgents who kidnapped two Japanese men and a woman said they would free their captives within 24 hours because of an appeal from Sunni clerics. The kidnappers, identifying themselves as the "Muhahedeen Squadron," announced the decision in a statement received by al-Jazeera.

Later, a Tokyo news report quoted the Japanese government as saying the hostages would be freed around noon Sunday, Japan time ! midnight Saturday EDT.

Videotape delivered to Al-Jazeera, as well as Associated Press Television News, on Thursday showed the three Japanese ! two aid workers and a journalist ! blindfolded and surrounded by armed, masked men dressed in black.

The three were identified as aid workers Noriaki Imai, 18, and Nahoko Takato, 34; and photojournalist Soichiro Koriyama, 32.

Meanwhile, a group calling itself the "Marytr Ahmed Yassin Brigades" in the city of Ramadi, west of Baghdad and Fallujah, claimed in videotape obtained by APTN to have 30 hostages from a variety of countries.

The footage, also aired on Al-Arabiya TV, showed no images of any hostages, and there was no way to verify the group's claim to be holding "Japanese, Bulgarians, Americans, Israelis, Spanish and Koreans, a total of 30 individuals."

"If the siege of Fallujah is not lifted, we will cut off their heads," a masked man on the videotape said.

He also said his fighters killed four American soldiers and said "we have their bodies." The tape showed an image of a body with bloody khaki pants and covered with a blanket, said to be one of the U.S. soldiers.

Insurgents elsewhere in Iraq have seized a Canadian and an Arab from Jerusalem. A British citizen and two German security officials from their country's embassy in Baghdad are also missing, though it is not known if they have been kidnapped.
Today's Top News
Top World News

Personal cheques to flourish in China




Likely Sino-Indian FTA conducive to nation




Big rally demands inquiry into shooting




Japan denies report of hostages release




Bush warned of al-Qaida plot before 9/11




Pressure on students causes social problems