US expert investigates shooting on Chen
(Agencies)
Updated: 2004-04-10 00:59
A top U.S. forensic expert and veteran of high-profile cases such as the O.J. Simpson murder trial said he discovered on Friday new clues to the mysterious shooting on Chen Shui-bian.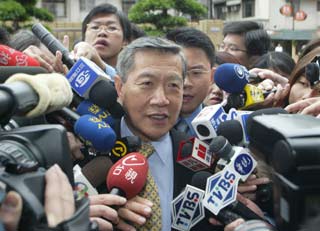 Lee will visit the scene of the March 19 shooting in the southern town of Tainan and the hospital where Chen Shui-bian was treated after suspicions were raised on the March 19 shooting. [Reuters]
Within hours of arriving in Taiwan, Henry Lee said his team had re-examined the bullets and casings used in the shooting that lightly wounded Chen and had found distinct markings.
"We saw some machine marks, and these machine marks need further study," Lee told reporters before departing for the city of Tainan, where the shooting occurred.
"Naturally every machine will leave a unique mark so we are investigating further," added Lee, who arrived with his team early on Friday with boxes of high-tech equipment. He declined to give more details about the case.
Chen was shot on the eve of March 20's highly disputed election, which the "president" won by a slim 0.2 percent margin.
Many have voiced suspicion that the attack was staged to win sympathy votes and demanded a impartial probe.
Chen was gashed across the stomach and his running mate Annette Lu was wounded in the knee by two bullets fired from a homemade handgun as they campaigned in an open-top Jeep.
Lee has said the attack with a low-powered gun did not look like a professional job nor did it look like self-inflicted.
Police say they have no suspects for so far, but are seeking two men seen on security video leaving the scene within minutes of the attack, one on foot and the other on a scooter.

Lee, head of a forensics institute in the U.S. state of Connecticut, is set to interview doctors and nurses who treated Chen in Tainan, as well as inspect the jeep and the scene of the shooting.
Opposition Kuomintang leader Lien Chan says sympathy votes swung the outcome, pointing to opinion polls in his favour before the attack.
The Kuomintang plan to lead 200,000 supporters in a march to Chen Shuibian's office on Saturday, which would be their third major protest since the election.

The opposition have also filed two lawsuits with the "High Court" -- one to invalidate Chen's victory and order a recount, and the other to nullify the election and order a new one.
Today's Top News
Top China News

Social security cash to be invested overseas




Japan has few options for Iraq hostages




US expert investigates shooting on Chen




Farm tax to be axed in three years




Beijingers enjoy sizzling spring




Russian scientists plan to send men to Mars