Nation steps up efforts to contain HIV/AIDS
By Zhang Feng (China Daily)
Updated: 2004-04-07 23:41
Vice-Premier Wu Yi called Wednesday for national efforts to combat the rapidly increasing spread of HIV/AIDS in China.
"The epidemic is at a critical point of spreading from high-risk groups to common people," Wu said at a national HIV/AIDS control conference in Beijing.
Prevention and control work is at a vital stage, said Wu, who is also China's Health Minister.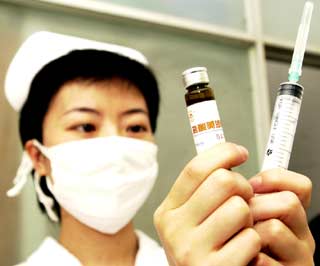 A nurse at the Zhongnan University Xiangya No 2 Hospital in Hunan Province of Central China checks a medicine to cure narcotic addiction. Many AIDS patients acquired HIV in drug abuse. [newsphoto]
"We can completely contain the momentum if we take it seriously. Otherwise, we will lose this best, fleeting opportunity," she warned health officials from various regions of the country.
"The consequences will be quite serious," said Wu, whose council has paid unprecedented attention to the HIV/AIDS issue, especially since the second half of last year after SARS greatly challenged China's laggard public health system.
The possible consequences of not controlling the HIV/AIDS outbreak are stunning, experts say. By 2010, there could be 10 million infected people, which means there would be one HIV carrier in every 130 people in the country.
Wu's ministry estimates that by the middle of last year, there were 840,000 HIV/AIDS HIV carriers and AIDS sufferers, including 80,000 patients in the Chinese mainland's 31 provinces, autonomous regions and municipalities.
And the deadly epidemic is increasing at a rate of more than 30 per cent annually.
Wu is echoed by Yip Ray, director of the China Office of China-US AIDS Prevention and Care Project, who says that China still has a "window" of opportunity to effectively contain the virus spreading from high-risk groups to the general public.
A very difficult task in preventing the virus from spreading is that nearly 90 per cent of those infected do not know they have the disease, Yip said.
Most of those infected with HIV are among high-risk groups, including drug users, illegal blood donors, and prostitutes.
Moreover, about 70 per cent are in poverty-stricken areas. And nearly 80 per cent of them have been not able to get necessary medical treatment, experts said.
Since July, 2003, the central government has promised to provide free anti-virus medicines and medical services to all poverty-stricken HIV carriers, hoping to get them to come forward.
More than 7,000 patients have been covered by such service. And the free treatment is expected to reach up to 40,000 people soon, said Zhang Fujie, an expert from the China's Centre for Diseases Control and Prevention.
Meanwhile, China announced a list of 51 county-level regions which are serving as pilot zones for AIDS prevention and treatment.
The zones, set up by the Health Ministry in 2003, have relatively bigger AIDS problems among China's 2,000-plus counties.
Most of those infected in the pilot programme areas are farmers infected by the virus in early 1990s when they sold their blood plasma to illegal blood stations for making money.
Wu asked local officials to strengthen their efforts in public education, fight illegal blood sales, spread condom and clean needle among high-risk people, and to push surveillance and monitoring of the epidemic.
"It must be reported timely and faithfully. And any people who intend to hide the epidemic should take responsibility and will be severely punished," she noted.
Today's Top News
Top China News

Consumers baulk at bank charges for debit cards




No one is allowed to hurt HK stability




Government think-tanks unveiled




Japan urged to show sincerity




Too few qualified healthcare workers




Rice: Bush understood al-Qaeda threat