Court: Koizumi war shrine visit illegal
(Agencies)
Updated: 2004-04-07 10:55
A regional court ruled Wednesday that Prime Minster Junichiro Koizumi's visit to a war shrine violated Japan's constitution, local media reported.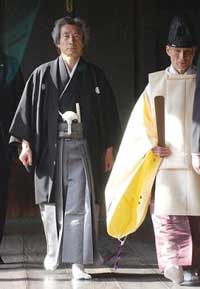 Dressed in the long pleated trousers of a traditional, formal Japanese costume, Japanese Prime Minister Junichiro Koizumi, left, follows the chief Shinto priest Tadashi Yuzawa as he visits Yasukuni Shrine honoring Japan's war dead, in Tokyo to pay homage in this Jan. 1, 2004 file photo. [Reuters]

The prime minister's trips to the Yasukuni shrine in downtown Tokyo have long angered China, South Korea and other Asian countries because of its association with Japan's wartime exploits. But the ruling was the first to find them in violation of Japan's constitutional separation of church and state.

The government has claimed Koizumi visited Yasukuni as a private citizen. He has made four trips to the shrine since assuming office three years ago.

But Kiyonaga Kamegawa, chief justice of the Fukuoka District Court, ruled he made the visits in his official capacity as prime minister, according to Kyodo News.

The ruling was unprecedented, and government indicated it would appeal.

The decision is "extremely regrettable," said Deputy Cabinet Secretary Hiroyuki Hosoda.

A group of 211 activists filed a lawsuit alleging that Koizumi's visits to the shrine violated the constitution and caused them psychological stress. They demanded $200,000 in damages.

The court rejected their claims for compensation, an official at the Fukuoka Court said, but declined to provide further details.

In February, the Osaka District Court refused to rule on the constitutionality of the visit, saying the plaintiffs in a different case had not suffered emotional turmoil as claimed. Four other cases are making their way through Japanese courts.

Yasukuni, a Shinto shrine, honors Japan's 2.5 million war dead including convicted criminals from World War II.

Koizumi has continued to visit the shrine despite strong condemnation from China, North and South Korea and other Asian countries where memories of Japanese colonialism remain fresh.
Today's Top News
Top World News

Interpretations of HK Basic Law 'timely, necessary'




Court: Koizumi war shrine visit illegal




Cheney's China visit to centre on Taiwan




Red light for "feast on a beauty's body"




For sale: coastal islands




Survey shows high schoolers sexually active