Saddam being held in Qatar: report
(Agencies)
Updated: 2004-04-07 08:39
Deposed Iraqi dictator Saddam Hussein is being held at a U.S. military base in Qatar, rather than in Iraq.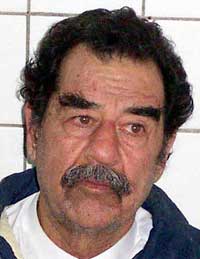 Saddam Hussein. [file photo]

Following his capture by U.S. forces in December last year, Saddam was first moved to a U.S. aircraft carrier in the Gulf for interrogation, a British newspaper reported, without citing its sources.

He was then -- at a time not specified by the report -- transferred to Qatar under great secrecy, with even the state's royal family not informed of his presence.

Major violence in Iraq over recent days which has seen more than 100 Iraqis killed as well as 20 coalition troops, meant Qatar was now seen as a far safer place to keep the ousted leader, the paper added.

In December, Qatar's government dismissed earlier news reports that Saddam had been moved to the emirate, while Iraq's interim Governing Council insisted that he was still being held in Baghdad.

At the end of the last month, Saddam's wife left Syria for Qatar, according to a Jordanian lawyer who says she retained him to represent her husband.
Today's Top News
Top World News

Interpretations of HK Basic Law 'timely, necessary'




Leaders to talk Taiwan question with Cheney




Aviation sector to open wider




Red light for "feast on a beauty's body"




Costs burden worries farmers




Panda cubs by the dozen coming soon