Profile: Outlawed Iraqi Shiite leader Muqtada al-Sadr
(Xinhua)
Updated: 2004-04-06 13:48
US civil administrator in Iraq Paul Bremer on Monday declared Iraqi Shiite cleric Muqtada al-Sadr as an "outlaw." The following is a profile of al-Sadr.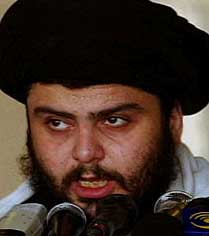 Iraqi Shiite cleric Moqtada al-Sadr

The childhood and early life of al-Sadr are relatively unknown. He said he was 30 years old, while many of his close friends believed that he was only in 20s.

Al-Sadr is the son of a prominent Shiite leader, Ayatollah Mohammad Sadeq al-Sadr, who was murdered presumably by the regime of Saddam Hussein in 1999.

Succeeding his father's career, al-Sadr became the head of the al-Sadr group. He was also enrolled at the Najaf Kawza Seminary but was not an official religious scholar.

After the collapse of Saddam's regime, al-Sadr and his supporters took control of Saddam City, a Shiite slum in Baghdad, and renamed it as Sadr City in memory of his father.

Although he is criticized by many people as too young, radical and inexperienced to lead, al-Sadr has gained support from the young seminary students and unemployed people. He advocated the application of strict Islamic law in Iraq.

Al-Sadr was firmly opposed to the presence of US troops in Iraq. He called on Shiite spiritual leaders to play an active role in shaping Iraq's political future.

Last June, al-Sadr established the Al-Mahdi's Army in spite of military control by the coalition forces.

He was held responsible for the assassination of Abdul Majid al- Khoei, a moderate Shiite leader who was stabbed to death by a mob at a Shiite shrine in the city of Najaf last April. An arrest warrant has been issued against him for murder.

Violent clashes broke out Sunday between al-Sadr's supporters and the US forces, leaving eight US soldiers and at least 28 Iraqis killed.

The events were ignited by the decision of the coalition provisional authority to close the Hawza newspaper that speaks for Sadr and the arrest of one of his top aides, Shaikh Mustafa Al Yaaqubi, last month.
Today's Top News
Top World News

Oil finds of 280m tons to ease national thirst




Lien Chan files suit for new poll




Constitution helps man fight for home




Troublemakers 'try to plunge HK into turmoil'




Japan and EU seek roles in chip talk




Judge jailed for 'lenient sentence' of rapist