Humor is no laughing matter overseas
(Agencies)
Updated: 2004-04-06 11:47
Pssst! Did you hear the one about the American businessman whose tame joke drew a hilarious response from his Japanese audience?
The American, curious why they liked the joke so much, later asked his official translator, who replied: "The joke was not appropriate, so I did not translate it. I simply said: 'The gentleman has told a joke. Please laugh.'"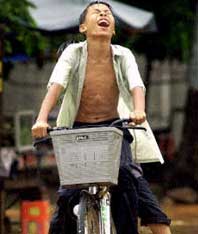 Laughter in Phnom Penh, Cambodia, may not raise an eyebrow in London. [AFP]

It is not uncommon for interpreters to avoid translating humor.

"You have to be careful about jokes. They do not translate from culture to culture," said Sheida Hodge, worldwide managing director of the Cross-Cultural Division for Berlitz International Inc. in Princeton, New Jersey.

The American trademark is to start a speech with a joke, she said. "When foreigners speak here, they also want to start with a joke, but that never works because the worst thing you can do is mimic other people or the nuances of their culture."

The dos and don'ts of cultures can get complicated for travelers, who need to beware of taboos dealing with gender, colloquialisms and body language.

"Humor is something we all need to make the world a better place, but it can also make life worse, if mishandled," said Steve Norcliffe, commercial director of the Queen Elizabeth II Conference Center in London.

"You may think you know a nation after spending a lot of time there, but you cannot be fully up to speed with the latest happenings, thoughts, etc," said Norcliffe. "And, sure as heck, you'll choose a no-go subject matter for a humorous quip just when you are near to closing the deal."

Cultural differences

In some cultures, humor can be seen as aggression or dominance, so it would be a faux pas for a woman to tell a joke, said Patti Wood, an international speaker and trainer.

A smile, often the best ice breaker, is not necessarily a sign of approval, said Wood, also known as the Body Language Lady. "For Chinese, Japanese and Malaysians, a 'masking smile,' with corners of the mouth turned down, is a polite way of letting you know what you are doing is not appropriate."

The eyes also play a role in cross-cultural communication.

Ed Ruggero, an author and keynote speaker on ethical leadership, admits to having anxious moments while addressing the Choctaw Nation at a casino complex in Mississippi.

"Whenever I tried to make eye contact with someone, he or she looked down. It was very unsettling," he said. Later, a woman explained that Choctaw do not look strangers in the eye.

In some Asian cultures, an entire audience might close their eyes, said Berlitz's Hodge. "But it only means they are concentrating on what is being said and is a sign of respect."

It's important to make an effort to understand other cultures, but trying too hard to fit in with the locals can result in embarrassment on both sides.

During his work stint in the United States, Englishman Norcliffe, eager to show he knew the local lingo, glibly suggested a sales prospect could "brown bag" a brochure.

"I thought it meant throw it in the trashcan. I didn't find out until after the meeting that I was way off the mark."

National differences

Wood agrees that humor varies from country to country.

"Americans, because we are individualistic and confident, tend to do a lot of put-down humor," she said.

"It's a big deal for the British; they believe it breaks tension," said Hodge. "But their sense of comedy is different. They use more irony, which Americans may mistake for sarcasm."

Ethnic or gender-related humor is still acceptable in some parts of the world, but in U.S. business meetings and presentations, you've got to keep it clean.

"That means no off-color jokes," said Hodge. "Sometimes Europeans make sexual innuendo jokes, but that doesn't go over well with Americans. And ethnic jokes are out."

The solution is simple, says Ruggero: "Don't use jokes. Use humor. A joke requires a response. If I make a humorous comment, at least some of the people will laugh."

If a joke bombs, body language speaks louder than words.

"Basic arm folding is seen as putting a barrier between you and the person who is talking," Wood said.

There are still times, however, that no matter how hard you try to do the right thing, it gets lost in translation.

Ruggero tells the story of a newly promoted American soldier at an embassy party celebrating the Allied victory at the end of World War II.

"A Frenchman stood up to give a toast and a British officer followed suit. The young major, who had studied French at West Point, was pushed front and center to represent the U.S.

"Unable to think of a toast, he chose a poem intended as a tribute to a child and his mother. 'The best years of my life,' he recited, 'Were spent in the arms of another man's wife.'

"His vocabulary was a bit rusty, however, and he confused the French words for arms and legs.

"Needless to say, the hosts were offended and the mortified young officer was "spirited away to his troopship... just before the dueling pistols came out."

In a social setting, it makes for a very funny story. But in the context of global business, that kind of gaffe can be fatal.
Today's Top News
Top World News

Oil finds of 280m tons to ease national thirst




Lien Chan files suit for new poll




Constitution helps man fight for home




Troublemakers 'try to plunge HK into turmoil'




Japan and EU seek roles in chip talk




Judge jailed for 'lenient sentence' of rapist