Rajapakse named new Sri Lankan PM
(Agencies)
Updated: 2004-04-06 09:49
Sri Lanka's president on Monday appointed veteran politician Mahinda Rajapakse as prime minister. Tamil Tiger rebels threatened to start fighting again unless their autonomy demands are met, casting doubt on the shaky cease-fire that halted a two-decade civil war.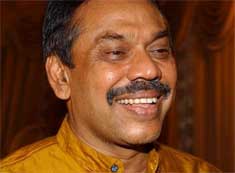 Mahinda Rajapakse, Sri Lanka's new Prime Minister laughs with supporters at his resident in Colombo, Sri Lanka early Tuesday, April 6, 2004. [AP]

Rajapakse, 58, who will take the oath of office on Tuesday to become this country's 13th prime minister since winning independence from Britain in 1948. The island off the southwest coast of India was then known as Ceylon.

The incoming prime minister had led President Chandrika Kumaratunga's party in Parliament when it was in the opposition.

"Rajapakse is a moderate person. He is one of the few liberals within the party," said Jehan Perera, a political analyst at the National Peace Council, an independent research institute.

"He is very approachable to a wide spectrum of the people," Perera said.

Kumaratunga's alliance emerged just eight seats short of an absolute majority in Parliament in Friday's snap elections.

An official at the presidential secretariat said Kumaratunga's United Peoples Freedom Alliance, which secured 105 seats in the 225-member Parliament, was holding talks with smaller parties and considered a ruling coalition a certainty.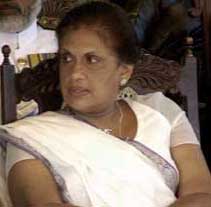 Kumaratunga's coalition failed to win majority in Friday's vote. [AFP]

Under Sri Lanka's constitution, the president has the power to administer the oath of office to a prime minister, but the latter must prove a majority in the Parliament, which is scheduled to convene April 22.

Outgoing Prime Minister Ranil Wickremesinghe had initiated the most recent attempts to make peace with the Tamil Tiger rebels, who fought a long, bloody war for a separate state for Sri Lanka's minority ethnic Tamils. They claim they are discriminated against by majority Sinhalese.

Wickremesinghe's peace plan was a major factor in a bitter feud with Kumaratunga, who has taken a tough stance toward the rebels and accused Wickremesinghe of giving them too many concessions.

It wasn't immediately clear how Rajapakse's appointment would affect the fragile truce with the Tamil Tigers, or future negotiations with them. Rajapakse is an ethnic Sinhalese, but is credited with having a non-controversial past.

Tigers warning over autonomy fight

"This is a good news for the peace process, as Mr. Rajapakshe is not controversial," Perera said. Rajapakse had been a legislator since 1970 and enjoys wide support among the rank and file of the party.

Kumaratunga's first choice for prime minister had apparently been former Foreign Minister Lakshman Kadirgamar. She changed the decision under fierce opposition from Rajapakse.

The rebels said on Monday they hoped a political solution could be found to their demands for sweeping autonomy.

If not, "the Tamil people will fight to establish the Tamil sovereignty in their homeland," the pro-rebel TamilNet Web site said.

Earlier, Kumaratunga's top aide said peace talks with the rebels were first on her agenda. But what remains unclear is the direction those talks, on hold for the past year, could take.

While the Tigers have said they would negotiate with whichever political party emerged on top, the president has made no secret of her distrust for them.

And for the Tigers, divided since the March defection of a powerful guerrilla commander, negotiations would be highly complicated.

The renegade commander took with him some 6,000 guerrillas from the 15,000-strong rebel army.

The Norwegian-led Sri Lanka Monitoring Mission -- charged with overseeing a cease-fire that has held since February 2002 -- said there were no changes on the ground Monday.

A top military analyst discounted war fears for now.

"Technically, the (Tamil Tigers) can resume fighting any time -- but I think they will wait and see if they get that autonomy by talking," said retired Air Marshall Harry Goonetilleke.

After hammering out the cease-fire that halted Sri Lanka's civil war, Norwegian negotiators withdrew at the peak of a power struggle between Kumaratunga and Wickremesinghe last year, saying they would return only after the two settled their differences.

The two longtime rivals failed to stop their bickering, eventually leading to Friday's snap poll, which came more than three years ahead of schedule.

Although the cease-fire has held for two years, the main Tiger leadership has warned the government not to negotiate with the breakaway faction.

Kumaratunga has refused to give the Tamils the degree of autonomy the rebels want, saying that would all but formalize the de facto state they've created.
Today's Top News
Top World News

Oil finds of 280m tons to ease national thirst




Lien Chan files suit for new poll




Constitution helps man fight for home




Troublemakers 'try to plunge HK into turmoil'




Japan and EU seek roles in chip talk




Judge jailed for 'lenient sentence' of rapist