Tomb price up and up: Let's squeeze the dead
By Xu Xiaomin (Shanghai Star)
Updated: 2004-04-05 11:49
Her's family bought a double tomb for their mother which cost 22,000 yuan (US$2,660) for a space of less than 3 square metres. It was located in Fengxian District, more than one hour's drive from the downtown area.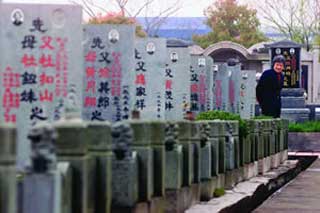 A cemetery in Shanghai. [Shanghai Star]

"If you buy a house there, the price is maybe only 3,000 yuan (US$362) per square metre. A house for the dead is even more expensive than one for the living," the daughter said.

"But for a traditional Chinese family, who would be unwilling to buy a nice place for a deceased family member to rest in peace?"

"The price of a tomb has been rising continuously," said Sun Mei, an official with Binhai Memorial Park in the Fengxian District.

In the graveyard where Sun works, the price of a cheaper tomb has risen by about 2,000 yuan (US$242) this year while the more expensive ones have gone up by 1,500 yuan (US$181).

In the graveyard, the average price of a double tomb is about 10,000 yuan (US$1,200). A luxury one costs more than 20,000 yuan (US$2,400).

"The price is not the highest in Shanghai. Our park aims at those ordinary people with an average income," Sun said. "I think most people can accept this price."

Profitable tombs

As Sun said, the 10,000 yuan (US$1,200) or even 20,000 yuan (US$2,400) for a tomb is not so expensive if you look around the city.

In the Fu Shou Yuan Memorial Park, said to be Shanghai's best memorial park because of its environment and location in the Qingpu District, the cheapest tomb - less than 1 square metre - costs 9,800 yuan (US$1,180). "As to the top ones, there is no ceiling because we can design according to personal wishes," said Zhang Rui, a sales manager with Shanghai Fu Shou Yuan Industrial Development Co Ltd.

Zhang said the park has four grades of tombs: boon type for under 20,000 yuan (US$2,400); well-to-do type for 20,000 to 30,000 yuan (US$2,400 to 3,600); warm-family type for around 30,000 to 40,000 yuan (US$3,600 to 4,800); and luxury, costing more than 40,000 yuan (US$4,800).

"About 60 per cent of our clients would choose the 20,000-to-40,000-yuan tombs," Zhang said. "The price of tombs has been rising steadily these past few years."

A tomb, like a house, is a must for most Chinese families and Sun said her park - the largest in Shanghai - has sold more than 120,000 tombs so far. The park has set a sales goal this year of 70 million yuan (US$8.5 million). Next year, the goal will be 100 million yuan (US$12 million). "Shanghai has 40 graveyards and the competition is really tough. We shall have to work hard to realize it," Sun said.

With the increasing cost, a tomb can now be thought of as an investment.

Shanghai didn't have public cemeteries until the late 1980s. Before then, most Shanghainese bought tombs in Suzhou in neighbouring Jiangsu Province.

"I think someone hyped the value of a tomb too much which even led to a pyramid selling scheme for tombs about 10 years ago," Zhang said.

"It was introduced from Taiwan and tomb towers were said to be value added investments for the future," said Zhu Jinrong, an official with Shanghai Funeral Interment Services. "At that time, the stock market was not so good, someone then bought several tombs as a kind of investment."

But it is just a day dream to earn from a tomb. Up to today, some towers in Suzhou are still not in use. Sun said one of her friends bought five for 1,000 yuan (US$120) each some years ago but none had been sold.

Regulations say no one is allowed to buy a tomb without a death certificate from the funeral home. Only those whose spouses have died, the elderly over 80 or those without either spouse or children can buy tombs in advance.

"The regulations are the regulations but in some small graveyards, I still heard they would sell long-term tombs to healthy people," she said.

Shortage of cemeteries

But irrational investment in tombs is not the reason for today's high prices. The major reason is a shortage of cemeteries, according to both these insiders.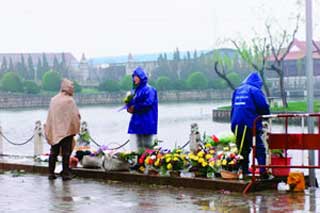 Paying tribute to the dead on the tomb-sweeping day. [Shanghai Star]

If local people continue the habit of burying bone ash in a grave, the public graveyards in the city will be completely filled up in around five years, according to He Jianping, an official with Longhua Home Services.

"I heard the government wouldn't approve any more land for use as graveyards now," Zhang said.

To solve the problem of the rapid dwindling of land available for graves, the present Shanghai Public Memorial Park Administrative Regulation may be amended by the administrative department.

The right of access to each tomb may be shortened to 20 to 30 years from 70 years today, the area per tomb would be cut from the current 3 square metres to 1 square metre, according to sources with the Fourth Members' Meeting of the Shanghai Funeral Association.

At the moment, the city has some 333 hectares of land designated as public memorial park but more than 200 hectares has already been used up.

Every year, an estimated 100,000 local people die and the rest of the land will be gone in five years.

An investigation launched by the association found the time allotted to use of a tomb - 70 years - is too long. In places like Hong Kong or some countries in Southeast Asia, the period extends for only 20 to 30 years.

Insiders said the central government had released some guidelines on the area of each tomb, suggesting it should be no more than 1 square metre.

In addition, the city is also pushing for wall tombs and burials at sea. "Though the city has been advocating such 'economic tombs' for over 10 years, about 80 per cent of people still choose a traditional grave in which to bury the bone ashes," said an official surnamed Gu with the Shanghai Funeral Administrative Office.

He said only 15 per cent of people keep their bone ash in memorial halls and memorial walls. As to burial at sea which takes up no land at all, even fewer people choose it. Between 1991 and this year, fewer than 10,000 people chose a funeral at sea.

Today's Top News
Top China News

Oil finds to ease national thirst




Lien Chan files suit for new poll




Japan and EU seek roles in Chip talk




Tomb price up and up: Let's squeeze the dead




HK: Calls for reason amid strife concerns




Four reasons why China will not revalue RMB