26-pound bomb found on Spanish rail line
(Agencies)
Updated: 2004-04-03 09:53
A Spanish railroad inspector found a 26-pound bomb hidden in a bag on a busy high-speed line Friday, and police said the device may contain the same dynamite used in last month's Madrid train bombings that killed 191 people.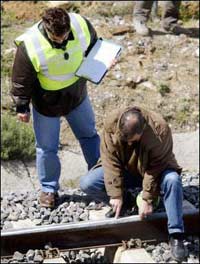 Spanish police work at the site where a bomb was found on the line between Madrid and Seville. The device was similar to ones used in the March 11 attacks. [Reuters]

Authorities immediately stopped six bullet trains using the Madrid-Seville line after the bomb was discovered before noon under a track about 40 miles south of Madrid. About 1,600 passengers left their trains and were taken to their destinations by charter buses.

No train was near the site when the bomb was discovered, said officials with the state rail company RENFE. The bomb failed to detonate because it did wasn't properly connected, officials said.

The discovery rattled a country still traumatized by the March 11 attacks in Madrid, which officials have blamed on an Islamic extremist group from Morocco. Authorities on Friday stepped up security on Spain's entire rail network, and used soldiers to provide surveillance.

"A handful of madmen are behind this, but the rule of law will prevail," said Juan Jose Imbroda, president of the Spanish enclave of Melilla on the Moroccan coast.

Imbroda was among travelers stranded at Madrid's Atocha station ¡ª where trains were bombed last month ¡ª after his southbound train was canceled.

Judge Teresa Palacio, the magistrate on duty Friday at the National Court, said there was no evidence pointing to either the armed Basque separatist group ETA or the al-Qaida terror network in the failed attack, a court official said. ETA has targeted Spanish rail lines in the past.

Interior Minister Angel Acebes said it was too early to say who planted the bomb. However, authorities believe it was placed at the scene Friday because the bag was dry and the ground was wet, and a 450-foot-long cable attached to a detonator looked new.

Initial analysis of the bomb suggested it used the same brand of Spanish dynamite ¡ª Goma 2 Eco ¡ª used in the March 11 backpack bombs that also wounded more than 1,800 people. Those bombs were detonated by cell phones.

"Because of its color and texture, it might be Goma 2 Eco," Acebes said. "Now it is going to be analyzed."

He said the bomber or bombers may have been scared away by security guards as they planted the device.

Friday was a busy travel day in Spain, with trains and highways full of people leaving home for Easter vacation. There was no warning about the bomb, Acebes said.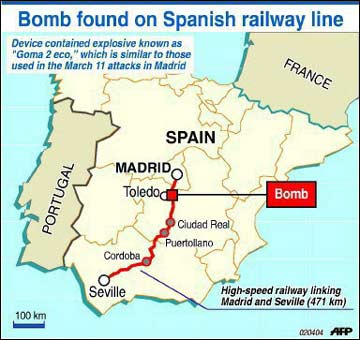 A map of Spain showing where a bomb was found on a railway line between Madrid and Seville.[AFP]
The line where the bomb was found mainly serves Spain's AVE bullet trains, which have a maximum speed of 190 mph, although some slower trains also use it. Authorities will inspect the entire Madrid-Seville line, Acebes said. Service on the line was suspended until at least Saturday.
At the site where the bomb was found, near the town of Mocejon in Toledo province, police walked slowly along the track looking for evidence. Officers in cars followed them, using binoculars.
Spain's entire rail system will get a new security system employing helicopters, four-wheel-drive cars and armored vehicles from the Spanish army, Acebes said.
The find came as a Spanish judge charged a 15th suspect in the March 11 bombings on four commuter trains, Spain's worst terror attack. The government has said its investigation is focused on the Moroccan Islamic Combatant Group, which has links to al-Qaida.
Six of the 15 suspects are charged with mass murder, while the remaining nine are accused of collaborating with or belonging to a terrorist organization.
Otman El Gnaout, a Moroccan, was jailed Friday on terrorism charges. Eleven of the 15 suspects are Moroccan.
Judge Juan del Olmo also released four men Friday, court officials said.
Court officials also said witnesses from the attacks recognized three jailed suspects at a prison lineup Thursday night. News reports said two of those recognized were Jamal Zougam, a prime suspect from Morocco, and Basel Ghayoun, a Syrian. Both have been charged with mass murder.
Del Olmo has issued international arrest warrants for five Moroccans and a Tunisian, identified as Sarhane Ben Abdelmajid Fakhet and described as the leader of the group suspected of carrying out the attacks.
Today's Top News
Top World News

Senior gov't official defends suit in court




NPC reviews HK Basic Law interpretations




US to fingerprint all foreign visitors




Taiwan recount still up in air




Sharon says Araft is 'a marked man'




100 homeless after metro site collapse