US to fingerprint more foreign visitors
(Xinhua)
Updated: 2004-04-03 09:43
A program requiring foreigners to be fingerprinted and photographed before entering the United States is being expanded to include millions of travelers from some of America's staunchest allies, U.S. officials said Friday.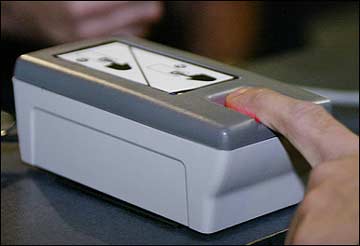 A reporter holds his finger in a fingerprinting machine at JFK airport in New York as airport officials demonstrate the new US Visit Customs entry program. [AFP]
The move affects citizens in 27 countries ¡ª including Britain, Japan and Australia ¡ª who had been allowed to travel within the United States without visas for up to 90 days. Officials said the change was prompted in part by concerns that terrorists might try to exploit those exemptions.
While foreign governments expressed understanding, a U.S. travel organization worried the new restrictions could limit trips to America just as the number of foreign visitors was returning to the levels of before the Sept. 11 terrorist attacks.
The changes in the US-VISIT program will take effect by Sept. 30. Travelers from the 27 countries will be fingerprinted and photographed each time they enter the United States through any of 115 international airports and 14 seaports. The program will be expanded to border crossings later.
Citizens from those countries still won't have to go through the consulate interviews and background checks that people from other nations must do to obtain visas.
There are no changes in unique rules covering visits by Canadians and Mexicans.
The 27 countries are: Andorra, Australia, Austria, Belgium, Brunei, Denmark, Finland, France, Germany, Iceland, Ireland, Italy, Japan, Liechtenstein, Luxembourg, Monaco, Netherlands, New Zealand, Norway, Portugal, San Marino, Singapore, Slovenia, Spain, Sweden, Switzerland and the United Kingdom.
The Bush administration made the move after determining most of the so-called "visa-waiver countries" won't meet an October deadline to have biometric passports, said Asa Hutchinson, undersecretary for border and transportation security. Such passports include fingerprint and iris identification features that make the documents virtually impossible to counterfeit. U.S. passports haven't been upgraded with those features yet, either.
Hutchinson said the change will enhance security while ensuring that law-abiding visitors are not subjected to lengthy secondary screenings at the border.
But he also said the decision was based on intelligence that "terrorists would look to programs such as the visa-waiver program to exploit because of fewer security checks."
The US-VISIT program was passed by Congress in response to the Sept. 11, 2001, attacks. In January, the government began fingerprinting and photographing visitors from nations other than the visa-waiver countries.
About 2.6 million people have been processed so far and more than 200 with prior or suspected criminal or immigration violations have been stopped, according to Homeland Security.
Today's Top News
Top World News

Senior gov't official defends suit in court




NPC reviews HK Basic Law interpretations




US to fingerprint more foreign visitors




Taiwan recount still up in air




Sharon says Araft is 'a marked man'




100 homeless after metro site collapse