Sharon says Arafat is 'a marked man'
(Agencies)
Updated: 2004-04-02 22:39
Israeli Prime Minister Ariel Sharon on Friday threatened his long-time foe Yasser Arafat with assassination.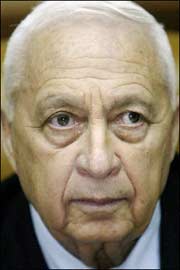 The United States said that Israel should leave Yasser Arafat alone and not act to kill or expel him, following veiled threats against the Palestinian leader by Israeli Prime Minister Ariel Sharon. [Reuters]

Sharon, who is under fire in Israel over his plan for a Gaza pullout and over a bribery scandal, also included Sheikh Hassan Nasrallah, leader of Lebanon's Hezbullah guerrilla group, in threats issued in a series of newspaper interviews.

"I wouldn't suggest either one of them should feel secure. I wouldn't propose that any insurance company give them coverage," Sharon told Israel's Haaretz daily.

"Anyone who kills a Jew or harms an Israeli citizen, or sends someone to kill Jews, is a marked man. Period."

Sharon's most explicit threat yet against Arafat came 10 days after Israel assassinated Hamas leader Sheikh Ahmed Yassin in a helicopter strike in Gaza. Hamas, dedicated to destroying Israel, has killed hundreds of Israelis in suicide bombings.

An Israeli-Arab legislator who visited Arafat said the Palestinian leader dismissed the threat saying: "Sharon has tried to kill me 13 times and failed. I'm not an easy mark."

Palestinian cabinet minister Saeb Erekat said of Sharon's remarks that the alternative to Arafat would be "chaos, extremism and anarchy" in the occupied West Bank and Gaza Strip.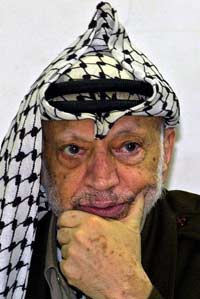 Palestinian President Yasser Arafat sits in his office in the West Bank town of Ramallah April 2, 2004. Israeli Prime Minister Ariel Sharon on Friday threatened his long-time foe Yasser Arafat with assassination, calling the Palestinian president a poor insurance risk. [Reuters]

The Israeli Government declared in September that Arafat should be "removed." But Arafat, 74, has scoffed at such threats, saying he would welcome "martyrdom."

Sharon, moreover, has acknowledged he has promised the United States not to harm Arafat, regarded by Palestinians as a symbol of their struggle for statehood.

Arafat, holed up in his battered headquarters in the West Bank city of Ramallah, has strongly denied Israel's allegations he has supported a wave of attacks in the past three years of conflict with Israelis.

In Jerusalem's Old City, Israeli police stormed the square outside al-Aqsa Mosque, one of Islam's holiest sites, and used rubber bullets and stun grenades to disperse Palestinian stone-throwers after Friday Muslim prayers.

Adnan Husseini, director of the Islamic Waqf, which oversees the compound, said police acted without provocation and called the Israeli action a "flagrant violation of freedom of worship."

In the southern Gaza Strip, Israeli forces killed a Palestinian during a raid to uncover weapons-smuggling tunnels in Rafah refugee camp near the Egyptian border, witnesses said.

In a separate incident in the central Gaza Strip, soldiers shot a Palestinian gunman, military sources said. Palestinian security sources said he was killed.
Today's Top News
Top World News

Senior gov't official defends suit in court




NPC reviews HK Basic Law interpretations




US to fingerprint more foreign visitors




Taiwan recount still up in air




Sharon says Arafat is 'a marked man'




100 homeless after metro site collapse