US vows to avenge Iraq killings
(Agencies)
Updated: 2004-04-02 08:48
The top U.S. administrator in Iraq said Thursday that the deaths and mutilation of four American contractors in Fallujah "will not go unpunished," and a U.S. general vowed an "overwhelming" response.
U.S. troops, however, remained outside the city Thursday, and commanders said they would act "at the time and place of our choosing."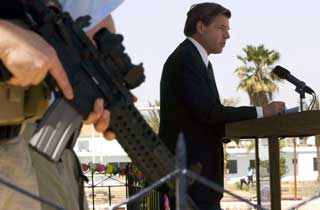 U.S. civil administrator in Iraq Paul Bremer addresses new members of the Iraqi Police Service during a graduation ceremony April 1, 2004 in Baghdad. Bremer, vowed to hunt down those responsible for ambushing the contractors in the restive city of Falluja, and those who then torched the corpses and dragged them through the streets before hanging them from a bridge.[Reuters]


They also defended their decision not to send forces into the city Wednesday to retrieve the charred remains of the Americans, who were dragged through the streets for hours after insurgents ambushed their SUVs.

Brig. Gen. Mark Kimmitt said troops didn't respond for fear of ambushes and the possibility that insurgents would use civilians as human shields. "A pre-emptive attack into the city could have taken a bad situation and made it even worse," he said.

On Thursday, Fallujah residents said they were ready to take on the Americans if they now try to enter the city.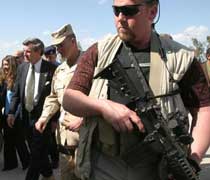 U.S. administrator for Iraq L. Paul Bremer, left, flanked with a bodyguard arrives to attend a meeting Thursday April 1, 2004 in the northern city of Mosul, Iraq. [AP]

"We wish that they would try to enter Fallujah so we'd let hell break loose," Ahmed al-Dulaimi said. "We will not let any foreigner enter Fallujah," said Sameer Sami. "Yesterday's attack is proof of how much we hate the Americans."

Near Fallujah on Thursday, insurgents set off a bomb beside a U.S. military patrol, wounding three troops. Associated Press Television News footage showed smoke and fire pouring from an abandoned Humvee on the side of a road.

In Ramadi, west of Fallujah, six Iraqi civilians died and four were wounded Wednesday evening in a car bombing at a market, said Lt. Col. Steve Murray, a coalition spokesman.

Also Thursday, two explosions near a U.S.-escorted fuel convoy in Baghdad wounded at least one Iraqi. APTN footage showed U.S. soldiers putting a wounded person on a stretcher in an armored vehicle.

Schools and shops were open in Fallujah a day after the macabre events, during which mobs strung up two of the corpses on an iron bridge over the Euphrates River.

Kimmitt pledged to hunt down those who carried out Wednesday's killings, which were reminiscent of the televised abuse of the corpses of American soldiers in Somalia in 1993.

"We are not going to do a pell-mell rush into the city. It will be deliberate, it will be precise and it will be overwhelming. We will not rush in to make things worse. We will plan our way through this and we will re-establish control of that city and we will pacify that city."

Fallujah, 35 miles west of Baghdad, has been the scene of some of the worst violence since the beginning of the U.S.-led occupation a year ago. The city was a stronghold of support for Saddam Hussein, who was ousted in the invasion a year ago. Militant forces appear to enjoy the support ¡ª or at least acquiescence ¡ª of a significant part of the population.

Last month, U.S. Marines took over authority of Fallujah and surrounding areas from the 82nd Airborne Division and conducted patrols that led to fierce firefights in the city.

The Marines enter Fallujah only on days when they conduct a military operation in the city. The Marines were apparently not in Fallujah on Wednesday when mobs dragged the mutilated and burned bodies of the four Americans through the streets.

Apparently fearful Iraqi police in the city stayed away from the mobs, and picked up the bodies hours later only at the request of American troops.

On Thursday, police manned roadside checkpoints and remained at their posts but were not conducting raids or operations related to the killings. Two officers told The Associated Press they were afraid, while a third said: "Why should we interfere? It's none of our business."

It was unclear why the American contractors were traveling unescorted in such a dangerous area. The four worked for Blackwater Security Consulting of Moyock, N.C., which provides training and guard services to customers around the world.

The firm is a government subcontractor providing security for the delivery of food in the Fallujah area. It is also a subsidiary of Blackwater USA, whose range of paramilitary services include providing firearms and small-groups training facilities for Navy SEALs, police department SWAT teams and former special operations personnel.

Iraq's administrator, L. Paul Bremer, condemned the killings as well as the combat deaths of five American soldiers on the same day, and said "their deaths will not go unpunished."

"Yesterday's events in Fallujah are dramatic examples of the ongoing struggle between human dignity and barbarism," Bremer said at a ceremony for police cadets in Baghdad. "The acts we have seen were despicable and inexcusable. ... They violate the tenets of all religions, including Islam."

Samir Shaker Mahmoud, a member of the U.S.-appointed Iraqi Governing Council, said he hoped the response of the U.S. military in the area would not be based on "revenge."

Iraqi Interior Minister Nori al Badran also promised to send forces into Fallujah but did not say when.

"We were shocked because our Islamic beliefs reject such behavior," police Lt. Salah Abdullah said in a reference to the abuse of the bodies.

Major newspapers in the United States ran graphic photos Thursday of the charred bodies, while the images were largely shunned by American television as too horrific.

Overseas, broadcasters and newspapers carried the gruesome images, though some London tabloids blurred the photos and Arab television obscured more gruesome footage.

Some European newspapers speculated about a quicker U.S. troop withdrawal and others said it could serve as a new standard for attacks.

But U.S. Secretary of State Colin Powell said the United States would not be "run out" of Iraq.

"America has the ability to stay, fight an enemy and defeat an enemy," Powell, who was attending a donor conference in Berlin for the rebuilding of Afghanistan, said in an interview on German ZDF television.
Today's Top News
Top World News

Nation indignant over US arms sale to Taiwan




China to US: Stop spying in border areas




Economic boom drives IPO rush




2008 Games to bring US$16b business




Technical standards updated to suit WTO




National power needs require investors