Thousands of fans pay tribute to Leslie Cheung
(Agencies)
Updated: 2004-04-01 09:09
Thousands of heavy-hearted fans from around the world gathered in Hong Kong for ceremonies to mark the first anniversary of the death of the city's megastar Leslie Cheung.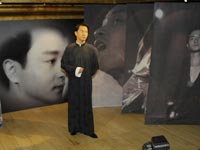 To mark Hong Kong heart-throb Leslie Cheung's first death anniversary, Madam Tussauds unveiled its wax figurine of the entertainer on Wednesday. It will pay tribute to the Cheung during a candlelit exhibition. [AFP]

The Cantopop singer and actor, best known for his portrayal of an opera star in the acclaimed 1993 historical epic movie "Farewell My Concubine", leapt to his death from the 24th floor of the Mandarin Oriental Hotel on April 1 last year after a long battle with depression. He was 46.

Parts of Icehouse Street, the road where he was found dead, will be closed on Wednesday so mourners can join the Never Forget Leslie ceremony at the Mandarin organised by fan club Leslie Cheung Cyberworld.

Organisers say 800 fans have bought tickets for the event, which will screen interviews with Cheung's close family and friends, some of whom will be on hand to share their memories of the star.

"We want Gor Gor (Cantonese for "big brother", Cheung's nickname) to know that he has not been forgotten and never will be," a spokeswoman said.

At 6:41 pm (1041 GMT), the time Cheung's body was found, a candlelit memorial, Memories of Our Legend, will be held at the podium of Jardine House across the road from the Mandarin.

At least 700 fans from China, Japan, Korea, Malaysia and Singapore have indicated they will join local mourners at the open event. White candles will be handed out by organisers.

"6:41 pm is the darkest moment of our lives and each candle light would bring us together, heart to heart, coast to coast, to remember our dearest Leslie how he lived on this earth," said a spokeswoman for organisers the Leslie Legacy Association.

"I hope it won't rain that day but I know it will because the sky will cry for him," she said choking back tears.

Messages invoking memories of the star will be read out by fans who cannot attend.

One sent in from a fan in Italy reads: "It's been one year already since you left us ... I'm sure you've already become a wonderful angel ... Down here we still really miss you."

On The Peak, Hong Kong's biggest tourist destination, the world-famous waxworks museum Madame Tussauds will pay tribute to the singer and actor with the unveiling of his wax effigy during a candlelit exhibition.

The singer's partner, Daffy Tong, selected the pose as well as items included in an exhibition.

Cheung's favourite restaurant, Fusion -- where he ate the day of his death -- will also commemorate the anniversary with a special menu of Cheung's favourite dishes, including prime rib, spaghetti bolognaise, caesar salad and seafood soup.

"I was surprised to hear of Gor Gor's death because he appeared his usual happy self that day," manager Deborah Li said. "I still feel very sad about it. He was such a nice person."

The heartthrob was notable for being one of only a few Asian stars to play openly gay characters and came out about his own sexuality after the 1997 movie "Happy Together", directed by Hong Kong's Wong Kar-wai.

Leslie Cheung, always a pop legend in fans hearts

On April 1, 2003, when many people were playing April Fool's jokes, Leslie Cheung, the Hong Kong actor and pop legend, played his biggest and his final role when he jumped from the Mandarin Oriental Hotel in Hong Kong. He died at the age of 46.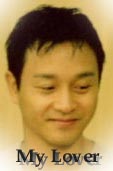 Tomorrow, hundreds of his fans from around the world are expected to arrive in Hong Kong to commemorate the first anniversary of his death.

For 20 years he was one of the Chinese-speaking world¡¯s most popular artists and, although he decided to end it all on April 1, he will never be forgotten.

Though he featured in several of John Woo¡¯s action films, Cheung was famous for being one of the few Asian stars to play openly gay characters, a choice that gained resonance when he came out after playing one of his most famous gay roles in Wong Kar-wai¡¯s Happy Together.

Born in Hong Kong on September 12, 1956, Cheung was the youngest of 10 children. Influenced early on by both the film world ¡ª his father was actor William Holden¡¯s tailor ¡ª and his parents¡¯ divorce, Cheung went on to study at England¡¯s Leeds University.

After returning to Hong Kong, he started his singing career by coming second in the 1976 ATV Asian Music Contest. His subsequent fame as a pop singer led to work on television, film, and the stage.

In 1981, Cheung became a real star with the success of his album The Wind Blows On, which established him as Asia¡¯s most popular singer. It was not until 1986 that Cheung¡¯s film career really gained recognition, thanks to his casting as a cop opposite Chow Yun-fat in John Woo¡¯s popular gangster film A Better Tomorrow. The film¡¯s success enabled Cheung to develop his film career and in 1988, the same year he starred in the sequel to A Better Tomorrow, he played the opium-smoking playboy lead in Stanley Kwan¡¯s Rouge, a romantic ghost story set between the Hong Kong of the 1930s and 1987. Rouge was one of the most widely acclaimed films to come out of Hong Kong during the 1980s and helped to establish Cheung as a romantic leading man as well as an action star.

The actor continued to work in a variety of films with some of the industry¡¯s most respected directors throughout the 1990s. In 1990, he starred in Woo¡¯s action film Once a Thief, again alongside fellow action star Chow Yun-fat. Later, he got the chance to expand his acting career in Wong Kar-wai¡¯s Days of Being Wild by playing Yuddy, a totally bad guy who uses most of the women in his life.
Cheung emigrated to Canada in 1992, but soon returned to Hong Kong. In 1993, Cheung earned international acclaim and recognition for his performance as an opera star specializing in female roles in Chen Kaige¡¯s drama Farewell, My Concubine. In 1997, again with Wong, Cheung starred in perhaps the most daring role of his career as Ho Po-wing, one of a pair of gay Chinese lovers stranded in Buenos Aires in Happy Together. The film was one of the most controversial movies of the year and one of the most acclaimed.
Continuing to appear in numerous films, Cheung won acclaim for his affecting roles. His unique persona continued to earn the respect of longtime fans.
When his death was announced on April 1, 2003, the international film community suffered a heavy blow and thousands of fans had difficulty coming to terms with how an actor of such talent could end his life while in the prime of his career.
Today's Top News
Top Life News

Nation indignant over US arms sale to Taiwan




China to US: Stop spying in border areas




Economic boom drives IPO rush




2008 Games to bring US$16b business




Technical standards updated to suit WTO




National power needs require investors