Scientists win World Food Prize
(China Daily)
Updated: 2004-03-31 00:39
Chinese Scientist Yuan Longping and Dr Monty Jones of Sierra Leone were named co-winners of the 2004 World Food Prize in Washington on Monday for their contribution to the world food security and rice production.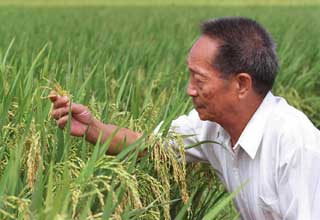 Professor Yuan Longping checks hybrid rice in this file photo. [Xinhua]
In announcing the recipients in a ceremony held at the US State Department, President of the World Food Prize Foundation Kenneth Quinn lauded both scientists for their "breakthrough scientific achievements" which have significantly increased the food security for millions of people from Asia to Africa.
Quinn said it was particularly fitting that the two pioneering rice breeders be awarded the prize during the United Nations International Year of Rice, the crop identified as the staple diet of more than 3 billion people around the world.
Professor Yuan Longping is director-general of the China National Hybrid Rice Research and Development Centre in Hunan Province, China. Jones is presently executive secretary of Forum for Agricultural Research in Africa.
Yuan is credited with developing the world's first successful and widely grown hybrid rice varieties, revolutionizing rice cultivation in China and tripling production over a generation.
Jones's work recaptured the genetic potential of ancient African rice by combining African and Asian rice species," dramatically increasing yields and offering great hope to millions of poor farmers."
Present at the ceremony hosted by US Secretary of State Colin Powell were UN Food and Agriculture Director-General Jacques Diouf, US Secretary of Agriculture Ann Veneman and Minister and Deputy Chief of Mission of the Chinese Embassy Lan Lijun.
The World Food Prize will be formally presented to Professor Yuan and Dr. Jones on October 14 this year in Iowa, the United States.
Today's Top News
Top China News

China alters visa rules for US visitors




Experts: Laws must outline rights




Nation continues to fight US motion




Efforts pay off in IPR protection




65 children poisoned after school breakfast




Scientists win World Food Prize