Visa application rules altered for US visitors
By Jiang Zhuqing (China Daily)
Updated: 2004-03-31 00:16
China has changed visa procedures for US citizens after being unable to stop that country from fingerprinting most Chinese visitors, sources with the Ministry of Foreign Affairs said Tuesday.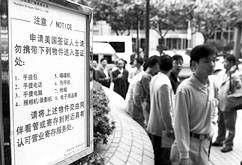 Chinese citizens wait outside the US embassy in Beijing to apply for visas.
US citizens with diplomatic or service passports will now have to apply and pay fees for common visas when planning private visits to China, sources said.
At the same time, the Chinese Embassy in the United States will hold interviews with some of the US citizens before issuing visas.
Moreover, all US citizens visiting China will not be able to apply for port visas, but will have instead to complete visa applications at home, sources said.
In another development, Foreign Ministry spokesman Kong Quan told reporters at a regular news conference Tuesday that US Vice-President Dick Cheney will visit China in April at the invitation of Chinese Vice-President Zeng Qinghong.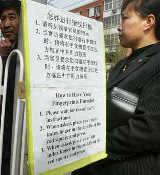 Chinese wait outside of the visa consulate for the U.S. Embassy near a sign with instructions on fingerprinting of visa applicants in Beijing, China, Wednesday, March 31, 2004. [AP]

The agenda and schedule of Cheney's visit is not complete, said Kong, who promised to brief the media when they are fixed later this week or early next week.

Kong expressed hope that Cheney's visit will further enhance understanding, expand common consensus, narrow differences and promote co-operation between the two sides.

The spokesman also said China strongly condemned the terrorist attacks and blasts in the Uzbek capital Tashkent on Sunday and on Monday.

Combating terrorism is the common consensus of the international community, said Kong. China firmly supports the fight against terrorism in Uzbekistan and other countries.

At least 19 people were killed and 26 others injured in a series of terrorist blasts in Uzbekistan on Sunday and Monday, reports said.

In a message to his Uzbek counterpart Sadyk Safayev over the terrorist attacks and blasts Tuesday, Foreign Minister Li Zhaoxing expressed condolences for those killed in the attacks and sympathy with the families of the victims.

Li stressed that the "three evil forces" of terrorism, separatism and extremism pose a severe threat to peace and stability in the region.

China is willing to boost co-operation with the international community, including Uzbekistan, in fighting terrorism, Li said.

Answering an inquiry on Chinese Minister of National Defence Cao Gangchuan's tour to India, Kong said the visit will further promote Sino-Indian military co-operation and bilateral ties.

The Sino-Indian exchanges and co-operation in military and national defence fields has strengthened and expanded constantly, and bilateral relations have also witnessed comprehensive development, he said.

Kong said Cao, also vice-chairman of the Central Military Commission and a state councillor, paid an important visit to three Asian countries, namely Pakistan, India and Thailand, and during his visit, Cao will meet governmental and military leaders of the three countries, and exchange views on issues of common concern.

The spokesman also said Ban Ki-moon, minister of foreign affairs and trade of the Republic of Korea (ROK), made a short but fruitful visit to China.

During Ban's visit, China and the ROK exchanged in-depth views on bilateral ties, and reached consensus on further promoting co-operation in various fields between the two countries, Kong said.

He said the two sides also reached agreed to start a working group as soon as possible to make preparation for the third round of six-party talks.
Today's Top News
Top China News

Visa application rules altered for US visitors




65 children poisoned after school breakfast




Farmers go looking for love in cities




3,798 punished over SARS negligence




World Cup: Arie Hann confident in beating HK




McDonald's hires daughter of Thai PM