Uzbek police surround terror suspects
(Agencies)
Updated: 2004-03-30 16:48
Uzbek forces laid siege to a group of terror suspects near the president's residence outside the capital Tuesday, the government said, following an explosion and reports of a shootout between police and militants that left several people injured.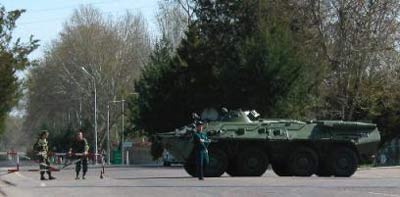 Soldiers block a road leading out of the Uzbek capital Tashkent on Tuesday, March 30, 2004. Special police units were tracking alleged terrorist remnants on the outskirts of the city after two days of violence in Uzbekistan including the country's first-ever suicide bombings. [AP Photo]

The troops cornered an unknown number of terrorists northeast of the capital Tashkent ! not far from the official residence of President Islam Karimov ! and were trying to "expose and exterminate" the militants, Foreign Ministry spokesman Ilkhom Zakirov said.
The operation began Tuesday morning, but Zakirov had no details on how many troops were involved in the sweep. Soldiers and police used empty trucks and an armored personnel carrier to block vehicles along the road to Karimov's residence.
The sweep followed a two-day spasm of violence that began Sunday evening, killing 19 people and wounded 26, including two suicide bombings ! the country's first-ever such attacks ! two assaults on police and an explosion at a bomb-making hideaway.
Karimov has blamed the violence on Islamic extremists, and said several arrests had been made.
The president said Monday that backing for the attacks might have come from a banned radical group that has never before been linked to terrorist acts ! Hizb ut-Tahrir, or the Party of Liberation. The group has denied responsibility.
A police source told a Western diplomat in Tashkent that a man in a car blew himself up Tuesday after being chased by police, and that a shootout had erupted at an apartment that authorities raided to capture three alleged suspects.
Several people were injured in the violence, the ITAR-Tass news agency reported, citing police sources.
The U.S. Embassy in Tashkent also said an explosion took place near a police checkpoint Tuesday on the road heading out of Tashkent toward the president's official residence. An embassy annex office remained closed and visa operations were suspended, but other business went on as usual.
Security was also beefed up across the city Tuesday, with soldiers on patrol and hotels deploying metal detectors and not allowing vehicles to approach.
The violence began Sunday night with a blast that killed 10 people at a house used by alleged terrorists in the central region of Bukhara, Prosecutor-General Rashid Kadyrov said Monday.
Police found 50 bottles with homemade ingredients for bombs and instructions on how to make them, a Kalashnikov rifle, two pistols, ammunition and extremist Islamic literature, he said.
The two assaults on police took place at a factory Sunday night and a traffic checkpoint early Monday. Three officers were killed.
The suicide bombings, carried out 30 minutes apart Monday at a bus stop and the Children's World store near the Chorsu bazaar in Tashkent's Old City, killed three policemen and a young child in addition to the two female attackers, Kadyrov said.
They were the first suicide bombings ever reported in the five Central Asian nations once ruled by the Soviet Union, which also include Kazakhstan, Kyrgyzstan, Tajikistan and Turkmenistan.
The violence went unmentioned on Uzbekistan's tightly controlled state-media until Monday evening.
Karimov alleged the attacks were planned six to eight months in advance and had been originally set to take place around the Central Asian new year holiday Navruz, which falls on March 21, but that heavy security prevented them. The planning and money required to carry out such attacks also indicated they had outside support, he said.
Uzbek authorities have accused the Hizb u-Tahrir of being a breeding ground for terrorists and have sought to have Washington label it a terrorist group.
Uzbekistan's tiny opposition, banned by Karimov's authoritarian regime from working openly, fears that this week's attacks will deepen a widespread crackdown against dissent and independent Islamic mosques. Thousands have been jailed, drawing international condemnation.
Today's Top News
Top World News

First frozen egg babies to be born in May




Uzbek police surround terror suspects




Taiwan's opposition asks to nullify election




More date rape victims seeking justice




White paper on China's human rights




"Father of hybrid rice" wins world food prize