Charlize Theron appears on TV show
(AP)
Updated: 2004-03-30 15:02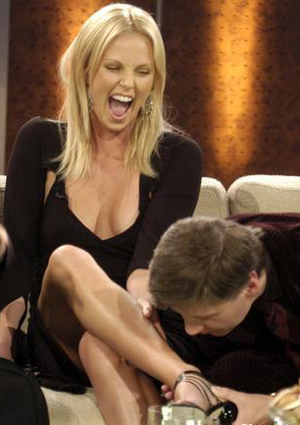 German TV anchorman Guenther Jauch (R) takes a close look at a tattoo on Oscar-winning South African actress Charlize Theron's leg during the television show 'Wetten dass...?' ('Bet it...?') in the Swiss town of Basel March 27, 2004. [AP]
Charlize blasts Hollywood beauty

Charlize Theron claims you don't need to be beautiful to succeed in Hollywood.
The stunning actress says looks play too big a part in the acting profession and believes actors should be judged on their talent rather than anything else.
The South African Oscar winner said: "Somewhere along the line we forgot what actors do. All of a sudden, somehow, the fashion industry crept into the movie industry. Celebrity has really taken over and over-shadowed what actors do.
"Actors aren't supposed to be beautiful, actors are supposed to tell human stories, but that kind of got lost."
Charlize says that beauty was never an issue when she was growing up.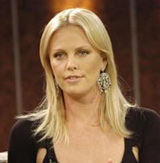 She told Britain's Daily Mail newspaper: "I was fortunate to grow up in a house where beauty was never focused on. No one went: 'Oh, you're so beautiful! I was always raised and encouraged to challenge myself."
The 26-year-old also trashed reports that she won an Oscar for her performance in 'Monster' because she became 'ugly'.
She said: "Anybody can make themselves ugly. Do you think the Academy of Motion Picture Arts And Sciences is going to give an award to somebody just because they make themselves ugly?"