"Father of hybrid rice" wins world food prize
(Agencies/chinadaily.com.cn)
Updated: 2004-03-30 11:44
Yuan Longping, "father of hybrid rice," was named a winner on Monday, March 29, of the annual US$250,000 World Food Prize for his work in producing high-yield rice. Another scientist from Sierra Leone was named a co-winner for the prize.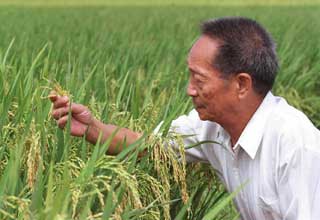 Professor Yuan Longping checks hybrid rice in this file photo. [Xinhua]

Professor Yuan Longping, director general of the China National Hybrid Rice Research and Development Center in central China's Hunan Province, is also an academician of the Chinese Academy of Engineering. Dr. Monty Jones is the executive secretary of the Forum for Agricultural Research in Africa in Accra, Ghana.

World Food Prize President Kenneth Quinn praised both scientists for their "breakthrough scientific achievements, which have significantly increased food security for millions of people from Asia to Africa."

Yuan and Jones were being honored at a State Department ceremony hosted by Secretary of State Colin Powell.

Yuan is credited with developing the world's first successful and widely grown hybrid rice varieties, revolutionizing rice cultivation in China and tripling production over a generation.

Jones' work recaptured the genetic potential of ancient African rices by combining African and Asian rice species, "dramatically increasing yields and offering great hope to millions of poor farmers," according to the award citation.

U.N. Food and Agriculture Organization Director-General Jacques Diouf said it was fitting that rice experts are being awarded the food prize in 2004, the same year dedicated by the United Nations as the International Year of Rice.

"Rice is life," Diouf said, noting that the staple provides 20 percent of the world's dietary energy supply.

The prize was created in 1986 by Dr. Norman Borlaug, who won the Nobel Peace Prize in 1970 for his work in developing new technologies for feeding the hungry. The award recognizes people who help improve the quality or availability of food throughout the world.
Today's Top News
Top China News

First frozen egg babies to be born in May




EU plans new import quotas for China




White paper on China's human rights




"Father of hybrid rice" wins world food prize




"Taiwan election biggest joke in the world"




New members shift NATO to Russia's borders