Sharon's son must yield graft probe papers
(Agencies)
Updated: 2004-03-30 09:09
Israel's Supreme Court Monday ordered Prime Minister Ariel Sharon's son to hand over documents crucial to investigating corruption scandals that could topple the Israeli leader and sideline his Gaza withdrawal plan.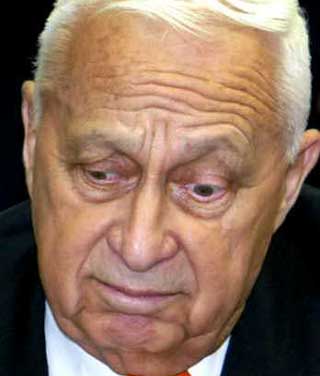 Israel's Prime Minister Ariel Sharon grimaces during a meeting of the Knesset, the Israeli Parliament, in Jerusalem March 29, 2004. The Supreme Court ordered Sharon's son to hand over documents crucial to investigating corruption scandals that could topple the Israeli leader and sideline his Gaza withdrawal plan. [Reuters]


The decision came a day after Israel's attorney general received a recommendation from the chief prosecutor to try Sharon on charges of taking bribes from a businessman pursuing a Greek island development scheme that ultimately flopped.

Sharon has denied wrongdoing. But the legal storm has damaged him in opinion polls and could hinder his plan to unilaterally withdraw Jewish settlers from Gaza and a few from the West Bank to break a peacemaking deadlock with Palestinians.

"I am dealing well with the problem. I am managing fine," Sharon said, while outlining his plan to the Knesset (parliament) Foreign Affairs and Defense Committee after the court ruling, according to panel members.

But a confidant of the 76-year-old premier said a Gaza timetable was not yet set and "this whole thing might be delayed" by the legal imbroglio. "He is consulting with advisers trying to form a new strategy, to create a new image," the confidant said.

Some Cabinet ministers said Sharon should quit if Attorney General Menachem Mazuz decides to indict him. Others said Sharon should suspend himself from office. Mazuz's decision is expected within two months, justice sources say.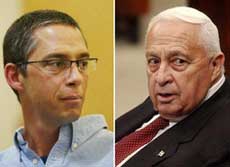 In this combination image, Israeli Prime Minister Ariel Sharon, right, is seen in Knesset, Israel's parliament in a Feb. 2, 2004 photo and his son Gilad Sharon, left, is seen at Israel's Supreme Court in Jerusalem Mar.10, 2004. [AP]

Micha Fettma, lawyer for Sharon's son Gilad, said he would comply with the high court decision that followed months of lower court battles over the documents in the Greek case and another involving accusations of illegal campaign funding.

Prosecutors contended the son was in control of key papers but Fettma disputed this. He said Gilad Sharon's legal team would talk to "every third party that might have a document."

SHARON'S POSITION MAY BE WEAKENED

Sharon hopes to win U.S. President Bush's approval for his "disengagement plan" at a pivotal U.S. meeting April 14. But the Sharon confidant suggested the scandal could weaken his status with Washington, Israel's closest ally.

Sharon's intention to annex large West Bank settlement blocs in the bargain has angered the Palestinians and concerned the United States for it would strip the Palestinians of significant amounts of occupied territory which they seek for a viable state.

Hawks within Sharon's Cabinet and the dominant Likud Party are upset at the disengagement plan's abandonment of Israel's longstanding demand the Palestinians rein in militants.

"The most important thing is the dismantling of the terrorist infrastructure," Foreign Minister Silvan Shalom told a Tel Aviv convention of Likud supporters.

Sources in the parliament committee said Sharon told members he wanted to reach "final understandings" with Bush and then submit the plan to his Cabinet and the Knesset for approval.

The Greek island affair centers on payments of hundreds of thousands of dollars that a land developer and Likud kingmaker made to Gilad Sharon, whom he hired in the 1990s as an adviser on developing a resort.

Suspicions focus on whether Sharon, foreign minister at the time, tried to help win Greek government approval for the enterprise. The developer, Likud fund-raiser David Appel, is now on trial on related bribery charges.

In the other case, prosecutors believe Sharon's two sons used a $1.5 million loan from a South African-based businessman as collateral to repay illicit contributions to a Sharon election campaign.

Foreign funding of political campaigns is illegal in Israel.

Palestinian Negotiations Minister Saeb Erekat said his side feared Sharon would try to divert attention from his troubles by "carrying out more incursions, assassinations and bloodshed."

Israel killed Hamas founder Sheikh Ahmed Yassin in a missile strike last week after vowing to crank up a drive to eliminate leaders of militant groups behind hundreds of suicide bombings.

Nabil Abu Rdainah, adviser to Palestinian President Yasser Arafat, urged Washington to reject Sharon's unilateralism and do more to revive talks based on its own "road map" peace plan.
Today's Top News
Top World News

First frozen egg babies to be born in May




EU plans new import quotas for China




White paper on China's human rights




Taiwan's opposition asks to nullify election




"Father of hybrid rice" wins world food prize




New members shift NATO to Russia's borders