New members shift NATO to Russia's borders
(Agencies)
Updated: 2004-03-30 08:47
U.S. President Bush ushered seven eastern European allies into NATO on Monday as "full and equal partners," and appealed to the alliance for unity in Iraq and the war on terror after the Madrid bombings.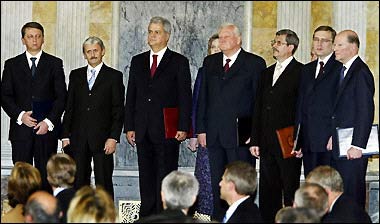 The prime ministers of the seven new NATO member countries stand prior to presenting their credentials to US Secretary of State Colin Powell at the US Treasury Department in Washington, DC. [Reuters]
The entry of Estonia, Latvia, Lithuania, Bulgaria, Romania, Slovakia and Slovenia increased the number of NATO members to 26, but the expansion could slow deployments and has angered Russia by shifting the 55-year-old transatlantic alliance to its borders.
"Today our alliance faces a new enemy, which has brought death to innocent people from New York to Madrid. Terrorists hate everything this alliance stands for. They despise our freedom, they fear our unity, they seek to divide us. They will fail. We will not be divided," Bush said.
Bush, criticized for paying scant attention to alliance-building, said the seven new NATO entrants were already "allies in action" because they aided the United States in wars in Iraq and Afghanistan.
"They understand our cause in Afghanistan and Iraq because tyranny for them is still a fresh memory," Bush told the nations' prime ministers at a South Lawn ceremony after they formally handed over their accession documents.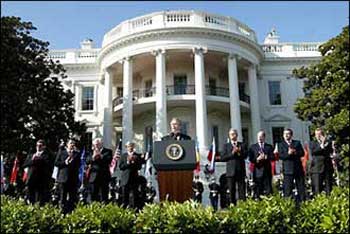 U.S. President George W. Bush (C) is applauded as he speaks before the prime ministers of seven former Soviet bloc nations on their final step to joining NATO during a ceremony on the South Lawn of the White House in Washington, DC. [AFP]


"Today they stand with us as full and equal partners in this great alliance."

In an immediate reflection of the shift eastward of an alliance forged to fight the Cold War, NATO fighter jets headed to the Baltics under a plan to begin regular patrols, Secretary-General Jaap de Hoop Scheffer said. The Baltic states of Estonia, Latvia and Lithuania were republics in the former Soviet Union, NATO's Cold War foe, until the Soviet breakup in 1991.

Russia protested the patrols and a parliamentary deputy said Moscow may respond with "corresponding measures."

Despite fears the enlargement could hamper timely deployments because of NATO's need for consensus on military action, Bush said he also supported the ambitions of Albania, Croatia and Macedonia to one day join the alliance. "The door to NATO will remain open," he added.

Bush's appeal for unity follows the deadly Madrid train bombings on March 11. Spain's new leader has pledged to pull his country's 1,300 troops out of Iraq unless the United Nations is given much greater control there by the end of June.

The new members exulted in joining an organization which ensures military protection to the 26 nations.

"Today, it is really fantastic day for Slovakia. ... I consider this a very big success," Foreign Minister Eduard Kukan told Reuters.

Forty percent of NATO will now be former communist states, and Washington has welcomed them as a counterweight to the "old Europe" of France and Germany, who opposed the Iraq war.

A Russian parliamentary deputy dismissed the Washington ceremony as a "show."

Konstantin Kosachev, representative of a Russian parliamentary committee on international affairs, said a NATO plan to patrol Baltic airspace was an "unfriendly" move. Estonia and Latvia border Russia, while Lithuania has a frontier with Moscow's Kaliningrad enclave.

"It can not be ruled out that Russia ought to look at the possibility of taking corresponding measures," he said.

Russian Foreign Ministry spokesman Alexander Yakovenko said "The main thing that could improve the state of European security is a fundamental change in the very nature of NATO... including a joint fight against new and real threats and challenges."

Monday's expansion has brought NATO nearer to the Balkans, the south Caucasus, the Middle East and Central Asia, all potential breeding grounds for the West's post-Sept. 11 enemies: terrorism and the spread of weapons of mass destruction.

But the expansion could hinder NATO's ability to respond quickly to such threats because of its consensus decision-making.
Today's Top News
Top World News

First frozen egg babies to be born in May




EU plans new import quotas for China




Paper to review China's human rights




Invasive moth and beetle cause huge losses




"Taiwan election biggest joke in the world"




New members shift NATO to Russia's borders