Sharon's son told to hand over documents
(Agencies)
Updated: 2004-03-29 16:44
Israel's Supreme Court on Monday ordered Ariel Sharon's son to hand over tapes and documents in two corruption cases, including one that allegedly also involves the prime minister.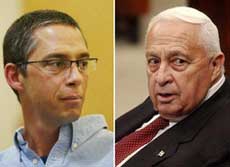 In this combination image, Israeli Prime Minister Ariel Sharon, right, is seen in Knesset, Israel's parliament in a Feb. 2, 2004 photo and his son Gilad Sharon, left, is seen at Israel's Supreme Court in Jerusalem Mar.10, 2004. [AP]

The decision came a day after Israel's chief prosecutor recommended that the elder Sharon and his son be indicted in the so-called "Greek Island Affair," in which a real estate developer allegedly paid the Sharon family hundreds of thousands of dollars in exchange for help in promoting a tourism project.

However, the final decision on whether to indict Sharon for bribe-taking is up to Israel's attorney general who is expected to rule within a month.

Sharon's son, Gilad, refused for months to hand over documents to police investigators. On Monday, the Supreme Court turned down his appeal against a lower court ruling ordering him to hand over the material.

Gilad Sharon's lawyer, Micha Fettman, said his client would comply, but suggested it might take time to obtain the documents. He said Gilad Sharon would have to get the documents requested by the court from third parties.

At issue in the "Greek Island Affair" is an attempt by real estate developer David Appel to promote a tourism project on a Greek island in 1999, at a time when Sharon was foreign minister. Appel hired Gilad Sharon as an adviser and allegedly paid him hundreds of thousands of dollars.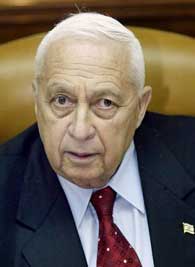 Israeli Prime Minister Ariel Sharon pauses prior to the weekly cabinet meeting in his Jerusalem office Sunday March 28, 2004. [AP]

At the time, investigators were wiretapping Appel, the Haaretz daily said Monday. According to one tape, Appel told the elder Sharon in one conversation that "your son is going to earn a lot of money," the Haaretz daily reported Monday.

At a later point in the conversation, Sharon said: "The island is in our hands."

Haaretz said Sharon's statement was one of the pieces of evidence that persuaded state attorney Edna Arbel to recommend an indictment.

However, the attorney general, Meni Mazuz, considers the case "problematic" because of the lack of conclusive evidence that Sharon accepted a bribe, the Yediot Ahronot newspaper reported Monday. Mazuz plans to consult with other jurists before making a final decision, media reports said.

Opposition lawmakers have called on Sharon to resign in light of the state attorney's recommendation. Infrastructure Minister Josef Paritzky said Sunday that Sharon must resign if an indictment is issued, or his Shinui Party will withdraw from the coalition.

In a second corruption case, police are investigating a $1.5 million loan from a South African businessman to Sharon's two sons, Gilad and Omri, used to cover illegal contributions to his 1999 election campaign.

The developments in the case come as Sharon is formulating a plan to withdraw from parts of the West Bank and Gaza Strip. Analysts have said that, in light of the suspicions, Sharon may speed up the implementation of the plan since it is widely supported by the public.
Today's Top News
Top World News

Jackie Chan: Taiwan election "biggest joke in world"




Duststorm hits Beijing, north China




State raises rice prices amid output drop




China accepts US demand on tax talks




Contract ensures more oil delivery to China




Interpretation of Basic Law in HK's interest