Israeli prosecutor: Indict Sharon
(Agencies)
Updated: 2004-03-29 08:42
Israel's chief prosecutor on Sunday officially recommended bringing charges against Prime Minister Ariel Sharon in a corruption scandal that could drive him from office and derail his Gaza Strip withdrawal plan.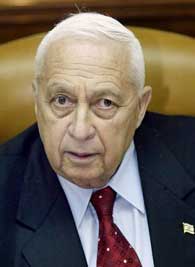 Israeli Prime Minister Ariel Sharon pauses prior to the weekly cabinet meeting in his Jerusalem office Sunday March 28, 2004. [AP]

The Justice Ministry said State Attorney Edna Arbel had submitted a draft indictment to Attorney General Menachem Mazuz, who would have the final say on whether to put the 76-year-old prime minister on trial for alleged bribe-taking.

A Justice Ministry source estimated it could take Mazuz, a career civil servant widely regarded as without any political agenda, up to two months to decide whether to charge Sharon.

The developments plunged Sharon deeper into trouble two weeks before a visit to Washington, where he hopes to win U.S. President Bush's backing for his plan to unilaterally evacuate Jewish settlements in Gaza and some in the West Bank.

It cast a cloud of suspicion over Sharon which may hamper his efforts to obtain cabinet backing for his Gaza pullout plan.

Sharon's aides declined to comment on the matter.

But one of his confidants told the Yedioth Ahronoth newspaper the central issue was "whether there is sufficient evidence which justifies throwing the country into a whirlpool."

The case centers on payments of hundreds of thousands of dollars that an Israeli land developer and Likud stalwart made to Sharon's son Gilad, whom he hired in the late 1990s as an adviser on a never-completed project to build a Greek resort.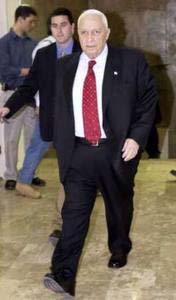 Israeli Prime Minister Ariel Sharon arrives at the weekly cabinet meeting at his Jerusalem office March 28, 2004. [Reuters]

Suspicions focus on whether Sharon, foreign minister at the time, tried to help win Greek government approval for the enterprise, promoted by Likud kingmaker David Appel, now on trial on related bribery charges. Sharon denies any wrongdoing.

ATTORNEY-GENERAL QUOTED AS SAYING CASE IS "BORDERLINE"

Legal experts quoted by television networks said the case against Sharon would have to be iron-clad for Mazuz to indict.

Channel Two television quoted Mazuz as saying the case was "borderline" and "problematic." It also quoted Yohanan Danino, the lead police investigator in the probe against Sharon, as saying: "There are lots of dark (questionable) spots in this case but they do not ... tie Sharon in a direct and logical line to receiving bribes."

Some cabinet ministers said Sharon should quit if Mazuz decided to indict him. Others said he should suspend himself.

Arbel's recommendation gave heart to one cabinet minister from a pro-settler party that has threatened to quit Sharon's government if he goes ahead with the Gaza pullout plan.

"I admire the courage of Edna Arbel...I admire this sort of judicial caliber," Tourism Minister Benny Elon told Army radio.

A government source said that under Israeli law Sharon would not have to resign until exhausting his final court appeal against any conviction. But recent opinion polls have shown he would be under huge public pressure to quit if charged.

In legal limbo, Sharon will press Bush on April 14 to back his disengagement plan.

Sharon has proposed to pull hard-to-defend Israeli settlers and troops out of the Gaza Strip as part of a plan to impose a separation on the Palestinians on Israel's terms if the moribund "road map" to a negotiated peace, promoted by Washington, fails.

The Palestinians say that in reality, Sharon aims to annex large Jewish settlement blocs in the occupied West Bank.

Sharon has been pushed from office before. As defense chief during Israel's 1982 invasion of Lebanon, he quit after an inquiry found him indirectly responsible for the massacre by a pro-Israeli Lebanese group of hundreds of Palestinian refugees.
Today's Top News
Top World News

State raises rice prices amid output drop




Taiwan police disperses protesters




China accepts US demand on tax talks




Contract ensures more oil delivery to China




Interpretation of Basic Law in HK's interest




East aims at balanced development