East aims at balanced development
(China Daily)
Updated: 2004-03-29 07:55
The accelerated development in eastern China is a crucial part of China's modernization drive, said Premier Wen Jiabao over the weekend.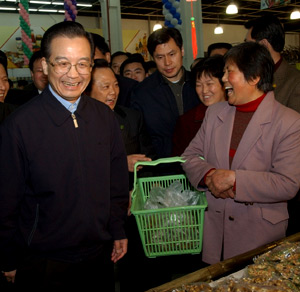 Premier Wen Jiabao chats with a woman who was shopping at a market in Jiangyin, East China's Jiangsu Province, on Friday. Over the weekend, he inspected rural villages, urban neighbourhood communities, enterprises and schools in the province. [newsphoto]

Practical efforts should be made to bring about all-round, co-ordinated and sustained social and economic growth in the region, he said during an inspection tour of rural villages, urban neighbourhood communities, enterprises and schools in the cities of Wuxi and Suzhou in East China's Jiangsu Province between Thursday and Saturday.

In cordial talks with local residents and farmers in Dongsheng Village, in the Xishan District of Wuxi, he repeated his message that food safety is of concern to people's livelihood and social stability, and called for effective measures to further raise the comprehensive grain production capacity.

While in Jiangxiang Village in Changshu, he underscored that the most resolute and rigid measures should be worked out and the illegal expropriation of crop land would be halted and misuse of farmland stopped.

The priority of the Chinese economy, Wen said, is to maintain steady growth and keep away from dramatic shifts.

China is working to guarantee the supply of energy, raw materials and transport for leading industries and profitable enterprises while curbing issues such as blind investment in some industries, said Wen.

Meanwhile, he added, the country will adopt measures to encourage farmers to plant more grain.

Economically developed eastern China, a major sector in the country's modernization, aims to realize a balanced and sustainable economic and social development, Wen said.

Eastern China, which has undergone rapid economic growth in recent years, should pay more attention to update its industrial framework and boost high-tech industries and the service sector, including logistics and tourism.

In a fast urbanization drive, provinces in East China should upgrade their technological level in agriculture and push for the development of rural areas, he said.

The more developed regions will offer more help and assistance to less developed regions in China for balanced development across the country, he added.

East China should also continue boosting the non-State economy and export-oriented businesses, the premier said.
Today's Top News
Top China News

State raises rice prices amid output drop




Taiwan police disperses protesters




China accepts US demand on tax talks




Contract ensures more oil delivery to China




Interpretation of Basic Law in HK's interest




East aims at balanced development