Nigerians shun polls as 40 killed in vote violence
(Agencies)
Updated: 2004-03-28 12:19
Nigerians stayed away from local council polls on Saturday after at least 40 people were killed in a two days of violence, undermining confidence in the country's five-year-old democracy.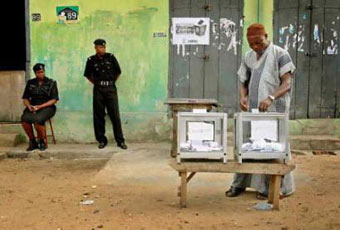 A Nigerian man casts his ballot at one of Lagos polling stations during local elections in Nigeria on March 27, 2004 amid fears of massive abstentions after dozens were killed a day before the vote. The government deployed thousands of troops and police to hotspots across the West African oil-exporting country, where religious and political feuding has killed more than 10,000 in the five years since democracy was restored in 1999. [Reuters]

Turnout for the first local elections since the end of military rule in 1999 was low across Africa's most populous country, witnesses said, as people stayed at home to avoid trouble amid widespread disillusionment with recent votes.

The latest killings topped two months of rising violence in the West Africa oil exporter by rival factions vying for control of municipal governments and the share of the nation's oil wealth that goes with it.

"The wave of violence is not surprising, given that our political class has no manifesto other than avarice and greed to loot the treasuries," said Adebowale Adeyemi, a senior politics lecturer at Lagos State University.

Five people were killed in the oil-rich southern delta on Saturday in gunfights during the election, while several others suffered machete wounds in a dispute over ballot stuffing, said Anyakwee Nsirimogu of rights body, Transition Monitoring Group.

Six political activists were shot dead in the central Benue state in three separate attacks on Friday night and Saturday morning, according to local police.

Nine people were killed by suspected political thugs in the southeastern oil city of Port Harcourt on Thursday night, while 20 more were slain in a feud between Christians and Muslims in the central Plateau state on Friday morning.

"Violence is inevitable when you see the political leaders who believe elections should be rigged, where leaders don't want to serve but be served," said Adeyemi, the university lecturer.

A Reuters correspondent saw electoral officials filling in ballot papers for the ruling People's Democratic Party (PDP) in view of five policemen and five PDP militia in Port Harcourt.

"Why should I stand in the sun for hours if my vote is not going to be recognized," said Audu Ayitogo, a farmer in the central Nassarawa state.

A massive deployment of troops and police ensured relative calm in most major urban centers of the country of 130 million, where more than 10,000 people have been killed in religious and political fighting in five years since the return of democracy.

BAD OMEN

Many Nigerians accuse politicians of enriching themselves from huge oil export earnings, without delivering basic services to the majority, who live on less than a dollar a day.

Rights activist Chima Ubani said the disillusionment was a threat to the survival of democracy, which was restored in 1999 with the election of President Olusegun Obasanjo after 15 years of military rule.

"The mass boycott across the country is a clear sign of popular protest," said Ubani of the Civil Liberties Organization. "It is an omen that something is about to give."

The polls were originally due to be held last year, soon after Obasanjo won a second term in elections that observers said were massively rigged. Local council voting was deferred because of legal disputes between central and state governments, which continued to sow confusion on the voting on Saturday.

Many states, including the largest city Lagos, have created new local councils which the federal government has refused to recognize. The ruling PDP boycotted polls in some of these areas in an attempt to stop voting from going ahead.

State governors suspended polls in several other councils because of alleged security concerns.

Reuters correspondents said many polling stations in Africa's most populous country were deserted and some still lacked ballot papers half-way though the voting period.
Today's Top News
Top World News

Opinion: What if RMB appreciates?




Beijing slams US for hailing Taiwan authority




China to write off huge Afghan debt




French lawyer says he will defend Saddam




'BMW case' reinvestigation ends




NASA jet might have hit record 5,000 mph