Curing Beijing's traffic headaches
(China Daily)
Updated: 2004-03-26 10:17
That's how Beijing taxi drivers routinely greet each other, referring to the serious traffic congestion in the nation's capital.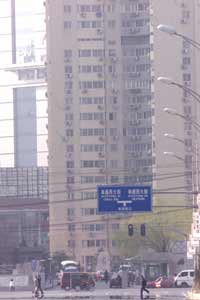 Only a few roads lead to city centre from Wangjing, an area with dense with dense population, which makes the transportation a headache for commuters. [newsphoto]

At 36, Yao Shan has been a taxi driver for nearly 20 years. "I'm seriously considering whether to switch to another job," he says. "Day after day we are grilled by traffic jams, and I'm fed up with it."

Yao says he will never forget a snowy night in November 2001 when he drove three foreigners from Andingmen to the National Olympic Sports Centre just seven kilometres away. "It took me four frustrating hours," he says.

During rush hours, according to Yao, nearly half his time is wasted in traffic jams. "Sometimes I tell my passengers to get out if they like, because we both feel uncomfortable watching the fast-running meter."

Beijingers are forced to endure the same ordeal day after day. The Beijing Municipal Traffic Management Bureau (BTMB) admits that every day, 40 per cent of the city's wage earners spend at least one hour commuting between their homes and workplaces, and that only 5.5 per cent of them are able to reach their workplace in under 20 minutes.

Snail's pace

In many parts of downtown Beijing, cars and buses inch forward at a snail's pace during rush hours. In 1994, speed averaged 45 kilometres per hour on roads within the Third Ring Road. Today it is no more than 20 kilometres per hour - and in some of the busiest areas it can drop to seven kilometres per hour, barely faster than walking.

Some residents attribute the traffic congestion to the rapid increase in private car ownership. The city's annual per capita gross domestic product (GDP) now averages US$4,000, far exceeding the benchmark of US$1,000 which, as most experts agree, sparks public interest in buying private cars.

In 2002, 276,000 cars were sold in Beijing and in 2003 the number increased to 400,000, setting an all-time record. Currently, Beijing has more than 2 million automobiles. Of these, 1.28 million or 64 per cent are private cars, averaging 31 for every 100 families.

The number of cars has increased at an annual average of 15 per cent in recent years, while the annual increase in the traffic capacity of urban roads has been a mere 3 per cent.

It seems car owners like to use their vehicles as much as possible. In Beijing, the average driver racks up 47,400 kilometres per year - almost three times the figure for drivers in the United States.

"We should curb the use of private cars," says Zhang Guowu, a professor at Beijing Jiaotong University. He notes that more often than not, use of private cars is meant for nothing but the pleasure of driving or showing off.

"Quite often we see a person driving a shining limousine to a luxurious restaurant for dinner, even though the restaurant is within walking distance," he says. Some people joke that even going to the toilet calls for a car.

The professor is a strong exponent of the government strengthening traffic management and raising parking fees in order to reduce the number of private cars and their use.

"The government should also encourage people to use public transport," he adds.

It's a sound idea, but unrealistic. Beijing cannot afford to reduce car sales now that the city is so dependent on automaking for economic growth. Yes, people should use public transport as much as possible. But one look at those long queues at bus stations and buses jammed with passengers provides ample evidence for why so many people borrow money to buy cars.

With a population of 13 million, the city has 54 kilometres of subway lines, which handle 10 per cent of the city's public transport volume and account for 5 per cent of the city's total traffic flow. In contrast, Tokyo, with a population roughly the same as Beijing's, has an urban rail network of 2,000 kilometres which handles 80 per cent of the city's passenger volume. The figure is 70 per cent for Paris and 55 per cent for Moscow.

Many residents urge more stringent enforcement of traffic regulations to improve road safety and alleviate traffic congestion. According to the BTMB, 1,018 traffic accidents are reported in the city every day, and 80 per cent of them are caused by "apprentice drivers" - those who have just obtained a driver's licence after a couple of weeks' training.

Drunken drivers are not uncommon. As well, unruly driving aggravates the problem of traffic congestion. When a car breaks down at a busy intersection during rush hours, a queue of several hundred cars will form behind it in a matter of seconds.

Tackling the problem

At long last, Beijing officials have come to realize that tackling the problem at its root demands radical changes in urban planning.

The seed of the problem was sown in the early 1950s, when two diametrically opposed approaches to development of the Chinese capital emerged. One called for modeling after Moscow, which kept expanding with the Kremlin at the city's centre. The other scheme, for which Professor Liang Sicheng of Tsinghua University was the staunchest proponent, advocated preserving the walled Imperial City, with the Forbidden City as its centre, while building a "new Beijing" on the western outskirts.

For political and economic reasons the second alternative was rejected even though Professor Liang was recognized as China's best urban planner. As a result, the city has continued sprawling out like a pancake.

According to the Beijing Municipal Bureau of Statistics, the Imperial City, now the urban centre, is home to 120 ministries and central government bureaux, the Beijing municipal government and 250 offices under it, as well as most of the largest companies and shopping centres.

The Imperial City, now the area girdled by the Second Ring Road, 62 square kilometres in area, accounts for 6 per cent of the area of urban Beijing, but is home to half the political and business activity in the Chinese capital. It generates 30 per cent of all traffic, and 50 per cent of the flow within the Third Ring Road.

As the city sprawls across all five ring roads, new residential areas and satellite towns have sprung into being. Most Beijingers displaced in the course of the pancake-like expansion live in these areas and are forced to travel the jammed roads to commute to work every day.

Yang Yuzhi, a doctor at Tongren Hospital in Chongwenmen, lives in a residential area called Wangjing in the northeast of the inner city, beyond the Fourth Ring Road. She bought a car not long ago, but before that she had to travel by bus for nearly two hours every day to go to work.

"I used to live in Xidan, just 20 minutes' ride from the hospital," she says. "My old home was pulled down five years ago and the place is now a big shopping centre, the Time Square."

Less than 20,000 jobs are available in Wangjing area, where 181,500 people live.

Fortunately, municipal government officials appear to have acknowledged past mistakes in the city's development.

In mid-March, Mayor Wang Qishan made public a blueprint for the future development of Beijing which calls for "perfecting the two axes, developing two belts and building multiple centres."

The concept behind the official rhetoric is pretty straight-forward - transferring some of the "urban functions" from the city centre to peripheral areas.

The "two axes" refer to the extension of the north-south central axis that runs through the Forbidden City and the east-west Chang'an Avenue. These are the backbones of the Chinese capital and must be preserved to protect the city's cultural and historical heritage.

Multi-functional centres

The "two belts" refer to a development belt in east Beijing and an ecological belt in the west.

According to Liu Xiaoming, deputy director of the Beijing Municipal Traffic Committee, multi-functional centres will be built in outlying districts such as Tongzhou and Shunyi. These will eventually develop into medium-sized cities, each with a population of more than half a million and outfitted with education, cultural, public hygiene, medical and commercial facilities.

According to Liu, people living there will work near their homes, without having to shuttle between their homes in places like Wangjing and their workplaces in downtown Beijing.

The government also plans to build parking lots along the Fourth and Fifth Ring Roads where cars can be parked for free or a small fee to facilitate their owners switching to public transit.

More than 30 bus lines have extended their service hours since November, and over 2,000 new buses with larger capacity and higher speed will be put to use to replace old vehicles. Moreover, 30 new bus lines will be opened and 50, extended.

"By 2010, public transport is likely to handle 60 per cent of the city's total traffic flow, up from the current 26 per cent," Liu says.

By 2010, Beijing's population will have grown to 15-16 million, and the number of cars will increase from today's 2 million to 3.8 million.

Local media have given much publicity to the blueprint, but most Beijingers take it with a grain of salt.

"Will I still be able to drive without being trapped so often?" Yao Shan asks.
Today's Top News
Top China News

Japan told to release Chinese unconditionally




Lunar satellite to be launched in 2007




Taiwan "election" protesters keep vigil




US vetoes UN measure on Yassin's death




China refutes US censure on human rights




UN sees problems, progress in China's path