Hamas leader warns all Israelis face attack
(Agencies)
Updated: 2004-03-25 13:45
Hamas's political leader Khaled Meshaal warned all Israelis, from Prime Minister Ariel Sharon to ordinary people, that they will not be safe from attack until Israel abandons occupied land.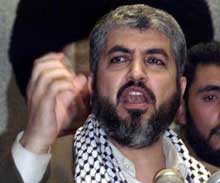 Khaled Mashaal, overseer of Hamas' political bureau from Damascus, Syria, speaks at the opening of the third Conference of Palestinian Youth in Damascus in this Nov. 27, 2002 file photo. The leader of Hamas has warned that the Palestinian Islamic militant group, which lost its founder to an Israeli assassination, will spare no targets in its campaign against Israel. [AP]

Meshaal stepped up earlier vows the Palestinian militant group would target Sharon to avenge Israel's assassination of its founder and spiritual leader Ahmed Yassin in a missile strike outside a Gaza City mosque on Monday.

In his warning to all Israelis, Meshaal told Reuters in a telephone interview on Wednesday: "There will be no safety so long as there is occupation. If they want safety they should leave."

Meshaal said Israelis could not win the present conflict.

"Your leaders, chaired by Sharon, will only bring you destruction. Blood begets blood. The Palestinian people can endure a long struggle and if you think that the confrontation will exhaust it then you are deluded. You will lose," he said.

Asked if Sharon was a target, Meshaal said: "It is the right of the resistance to target the leaders of the enemy, the heads of Zionist terrorism...it is a matter of right and duty."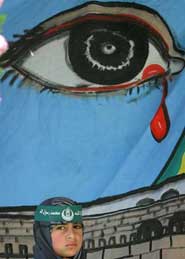 A Palestinian girl wearing a Hamas headband arrives at the mourning house for Hamas founder Sheikh Ahmed Yassin in Gaza City March 23, 2004. [Reuters]

HAMAS VOW TO DESTROY ISRAEL
Hamas, which has vowed to destroy the Jewish state, envisages having Israel and the Israeli-occupied West Bank and Gaza Strip as part of a Palestinian state.
Meshaal said any Hamas attacks would be confined to Israel, the West Bank and Gaza Strip.
Earlier, the United States warned Americans in the Middle East and North Africa of a heightened attack threat after Yassin's assassination, saying it had been prompted by comments from a Hamas spokesman.
In Gaza, an Israeli helicopter gunship fired a missile at a Palestinian police post in the Khan Younis refugee camp early on Thursday, wounding a policeman, Palestinian security sources and witnesses said.
Israeli military sources said the helicopter had been targeting a group of gunmen and that there were no reports of Palestinian casualties.
Palestinian gunmen fired on an Israeli armored column that thrust about 200 meters (650 ft) into the refugee camp in an apparent repeat of a Wednesday raid. The Israelis returned fire and bulldozed 10 homes after the residents fled.
An Israeli army spokeswoman said it was a small-scale operation in response to rockets fired by Palestinians.
Meshaal said he remained political bureau chief of Hamas and would not assume Yassin's place.
"There is no change in the hierarchy. The martyr Sheikh Ahmed Yassin had a symbolic stature among Palestinians, Arabs, Muslims that goes beyond the limits of Hamas...this cannot be inherited," Meshaal said.
Asked if Damascus had permitted him to stay in Syria after he became Hamas's most senior official, Meshaal said: "That issue was not opened. There was no need to do so in view of the fact that my position did not change. I will continue to travel between several Arab countries as I did before."
Syria is facing mounting U.S. pressure over its backing for anti-Israel militant groups. Syria regards the groups as "freedom fighters" while Washington brands them "terrorists."
In New York, Israel urged the United Nations to call a special session to deplore terrorism as Arab nations pressed the Security Council to condemn the Jewish state for killing Yassin.
Israeli Foreign Minister Silvan Shalom visited U.N. Secretary-General Kofi Annan and called Yassin the "godfather of the suicide bombers."
Algeria, representing Arab nations, introduced an amended Security Council draft resolution condemning the assassination and "also all terrorist attacks against any civilians."
A vote on the draft, still subject to change, was scheduled for Thursday at 4 p.m. (2100 GMT), but Washington made clear it would veto any measure that did not specifically condemn Hamas.
Today's Top News
Top World News

Japan told not to harm Diaoyu isle activists




Taiwan vote dispute drags on




Border police nab thousands of stowaways




Officials banned from posts in enterprises




US refuses to review fingerprinting procedure




Chinese skaters perfect silver medalists