FM: US urged not to fingerprint Chinese
(chinadaily.com.cn)
Updated: 2004-03-24 15:13
China expressed its strong dissatisfaction with the US move of collecting fingerprints of non-immigration visa applicants from China and warned of reciprocal measures if the United States does not abandon this discriminatory measure.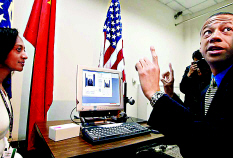 US embassy to China began to fingerprint non-immigration visa applicants from March 22. [sina]

The Ministry of Foreign Affairs said in a statement on March 23 the US move is a discrimination against the Chinese citizens, and infringes upon the dignity and personal privacy of the Chinese citizens.

Beginning from January 5 this year, the United States started to implement US-VISIT program in its 115 airports and 14 seaports for "homeland security." Foreign visitors arriving with visas had to have their travel documents scanned, their fingerprints and photos taken and their identification checked against terrorist watch lists under the new program.

Children under 14, seniors over 79 and government officials as well as their spouses who hold diplomatic and business passport are not required to go through the fingerprinting and photographing procedures. But visitors from Canada and other 27 countries, enjoying the privilege of visa-free treatment, are not subjected to this program.

The US Embassy to China started to collect fingerprints of non-immigration visa applicants from March 22. This move immediately aroused strong indignation among the Chinese people.

The Foreign Ministry said in its statement officials from the ministry, Chinese embassy and consulates to the United States have lodged serious representations to the US side, pointing out that the measure is a violation of human rights, and urged the US side to waive the Chinese citizens from its practice of fingerprinting visitors.

The US side claimed it is a global measure for the homeland security of the United States, but its practice of waiving citizens from 28 countries as Canada from fingerprinting requirement contradicts its explanations.

This is, in essence, a kind of discrimination that the Chinese side can't accept.

The ministry urged the US side to abandon this measure as soon as possible, and warned that China reserves the right to lodge further representations and to take reciprocal measures.
Today's Top News
Top China News

Nation indignant over US arms sale to Taiwan




Taiwan court to hear recount lawsuit




NPC to interpret annexes of HK Basic Law




China to US: Stop spying in border areas




2008 Games to bring US$16b business




Flight insurance dispute soars