Israel threatens to kill entire Hamas leadership
(Agencies)
Updated: 2004-03-24 09:36
Israel threatened to kill the entire leadership of the Islamic militant group Hamas after assassinating its founder and hinted Tuesday that Yasser Arafat could wind up on the hit list in the future.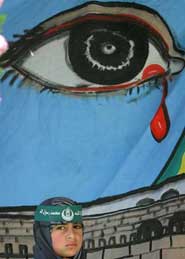 A Palestinian girl wearing a Hamas headband arrives at the mourning house for Hamas founder Sheikh Ahmed Yassin in Gaza City March 23, 2004. [Reuters]

The accelerated strikes at Hamas are part of an attempt to score a decisive victory ahead of an Israeli withdrawal from the Gaza Strip. Israel does not want to be seen as being driven out of the strip by militants, who already are claiming victory.

The tough talk came on the same day Hamas hard-liner Abdel Aziz Rantisi was elected as the new leader of the Islamic militant group in Gaza. The 54-year-old pediatrician replaces Sheik Ahmed Yassin, who was killed in an Israeli airstrike early Monday.

Early Wednesday, about 25 Israeli tanks entered the Khan Younis refugee camp in southern Gaza, residents said. Israeli military officials said the operation was aimed at clearing an area used by Palestinian gunmen.

Hours earlier, Israeli gunboats opened fire off the coast of Gaza, targeting fishing boats and piers, witnesses said. No one was hurt. The Israeli military said the gunboats fired at a suspicious object.

Also late Tuesday, an armed Palestinian was killed as he approached a Jewish settlement in Gaza, Army Radio reported.

Around the same time, Israeli helicopters opened fire at guerrillas setting up rocket launchers in south Lebanon, the military said. Lebanese officials said two guerrillas were killed and one wounded.

Rantisi, who has pushed for accelerating attacks on Israel and rules out all compromise, told tens of thousands of cheering Hamas supporters at a soccer stadium that he was chosen in secret elections. One by one, senior Hamas officials got up and swore loyalty to him.
Abdel Aziz Rantisi, the newly-declared Hamas leader to replace Sheik Ahmed Yassin, meets the crowd under a tent erected for an official three-day grieving period for Yassin, in Gaza City, Gaza Strip, Tuesday, March 23, 2004. Yassin was killed a day earlier in an Israeli airstrike. [AP]

In his acceptance speech, Rantisi made his priorities clear. "My people, we must unify under the umbrella of resistance," he said, and exhorted the Hamas military wing to "teach this Zionist occupation a lesson."

Rantisi has rejected even a temporary truce with Israel and any compromise with Arafat's Palestinian Authority. His aggressive style is particularly popular with younger Hamas activists.

With his new post, Rantisi will likely become an even more tempting target for Israel's military, which wounded him in a missile attack on his car last year.

On Monday, Israeli Defense Minister Shaul Mofaz and various security agency chiefs decided to go after all the Hamas leaders, a security official said Tuesday, speaking on condition of anonymity.

The Israeli army chief, Lt. Gen. Moshe Yaalon, hinted that Arafat might eventually be targeted as well. The killing of Yassin should be seen as a signal "to all those who choose to harm us that this will be their end," Yaalon said.

"It is our view that decapitation of the terrorist infrastructure is one means among the strategies in the war against terror," the general said. "The strike on Yassin is a significant blow to the Hamas terror organization."

After Yassin's killing, Hamas threatened revenge attacks of unprecedented scope, and Israel beefed up security throughout the country and at missions abroad. Shopping malls, markets and buses were relatively empty as jittery Israelis hunkered down.

Opinion polls published in newspapers Tuesday suggested a majority of Israelis support Yassin's killing.

Despite the Israeli threats, the Hamas leaders apparently in Israel's crosshairs ¡ª Rantisi, Mahmoud Zahar and Ismail Hanieh ¡ª made rare public appearances, though surrounded by a shield of civilians.

Since Monday night, the three have spent long hours at Gaza City's Yarmouk Stadium, where Hamas set up an official mourning tent. On Tuesday, tens of thousands of people crammed into the stadium. Armed men from various militias stood as honor guards near the entrance.

Zahar brushed off Israel's threats. "They tried to assassinate me twice and Dr. Rantisi once," he said. "We are still working and will continue ... and they (Israelis) will fail and they will leave this land."

Palestinian Prime Minister Ahmed Qureia briefly paid his condolences. The Palestinian Authority declared three days of mourning for Yassin, and stores closed throughout the West Bank and Gaza Strip. Hamas is the biggest rival to the authority, but Palestinian leaders treat the movement with care because of its popularity.

Hamas, founded by Yassin in 1987, wants to destroy Israel and replace it with an Islamic state. Israel says Hamas killed 377 Israelis in hundreds of attacks, including 52 suicide bombings, over the years.

The Hamas Web site on Tuesday published a message it said Yassin had sent to the upcoming Arab summit in Tunisia. Yassin reiterated that violence was the only way to drive out the Israelis, and demanded Arab countries cut all ties with Israel.

"The land of Palestine is an Arab, Islamic land which was occupied with the force of weapons by the Jewish Zionists and we will not get it back except with the force of weapons," the letter read.

Despite its threats of revenge, Hamas' initial response was relatively tepid. It fired mortar shells and homemade Qassam rockets toward Israeli targets in Gaza, causing no injuries.

Hamas might have trouble carrying out a large-scale attack, in part because Israel has become more effective in stopping bombers.

The number of suicide bombings and the number of victims has dropped, with 142 Israelis killed in 22 bombings in 2003, compared to 214 killed in 53 bombings in 2002. Analysts attributed the drop to Israel's partially built West Bank barrier, beefed-up intelligence and Hamas leaders' fear of assassination.

Hamas said Monday it held the United States partially responsible for the killing of Yassin ¡ª in what was seen as a veiled threat against Washington. However, at Tuesday's reception for mourners at the Gaza soccer stadium, speakers did not make any threats against the United States, only against Israel.
Today's Top News
Top World News

Anti-China motion disrupts human rights dialogue




Powell: US observes one-China policy




NASA: Salty sea covered part of Mars




Japan nixes WWII labourers' pay




And the Beijing Olympic mascot is...




US sets up copter base in Afghan mountains