Japan nixes WWII labourers' pay
(China Daily)
Updated: 2004-03-24 00:16
Compensation requests from Chinese labourers, who were forcibly taken to Hokkaido, Japan, to work for six Japanese companies during World War II, have been rejected by Japanese courts, China News Service reported Tuesday.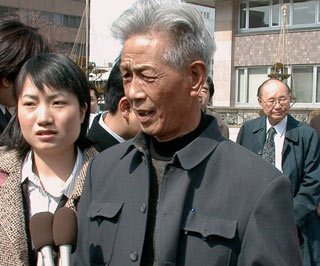 Zhao Zongren, who was forced to labour in Japan during World War II, speaks to the media during a news interview outside of the Sapporo District Court in northern Japan March 23, 2004. A Japanese court rejected a US$7.47 million suit by Chinese workers despite acknowledging they were forced to become slave labourers at mines and other locations. [AFP]
A total of 70 Chinese, including 36 labourers who were forced to work in Japan during World War II and the families of seven who died, brought a lawsuit a few days ago to the Sapporo regional court of Japan, asking the Japanese Government and the six companies to apologize and pay more than 800 million Japanese yen (US$7.47 million) in compensation.
Japanese courts rejected this compensation request, the news agency quoted the Kyodo News as reporting.
About 40,000 Chinese labourers were forced to work in 135 workplaces for 35 corporations in Japan during the World War II.
Many of them never returned to China.
In the last two years, some 12 lawsuits from Chinese labourers have been brought to Japanese courts.
Regional courts in Japan have dismissed them saying too much time has elapsed.
Some courts have said forcible work claims can be dismissed after 10 years; meaning there is a statute of limitations on the workers' claims and it has expired. Others have said the time limit for the right to claim compensation for illegal actions is 20 years.
These declarations mean, in short, that according to Japanese laws, Chinese labourers have lost the rights to file lawsuits for actions that occurred during World War II, which happened in the 1940s and much more than 10 or 20 years ago, sources from the Beijing Fang Yuan Law Office explained.
Still, Japan's Niigata regional court will make a decision on Friday on another lawsuit lodged by 12 Chinese slave labourers. The 12 have demanded the Japanese Government compensate them to the tune of 2.75 million Japanese yen (US$25,701) for being forced to work in Japanese workplaces during World War II.
Today's Top News
Top China News

Anti-China motion disrupts human rights dialogue




Powell: US observes one-China policy




NASA: Salty sea covered part of Mars




Japan nixes WWII labourers' pay




And the Beijing Olympic mascot is...




US sets up copter base in Afghan mountains