Israeli FM: No plan to kill Arafat
(Xinhua)
Updated: 2004-03-23 15:13
Israeli Foreign Minister Silvan Shalom said Monday that Israel had no plan to kill Palestinian leader Yasser Arafat following Israel's killing of Hamas spiritual leader Sheik Ahmed Yassin.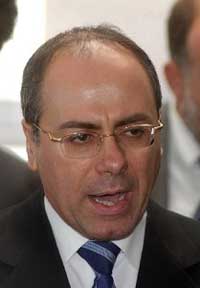 Israeli Foreign Minister Silvan Shalom.

When asked by CNN that if a plan to assassinate Arafat was on the cards, Shalom said: "Not at all."

"We are doing it against those extremist leaders of Hamas and Islamic Jihad. They are behind hundreds of attacks against Israelthat caused us hundreds of casualties of innocent Israeli peoples," Shalom said.

Shalom arrived in Washington Monday morning and held talks with US Vice President Dick Cheney and Secretary of State Colin Powell.

Earlier Monday, State Department spokesman Richard Boucher said the United States expected Israel not to harm Arafat after the killing of Yassin.

"The Israelis have said before that they do not intend to harm Mr. Arafat's person. We think that is important pledge, and we would expect them to stand by that," Boucher said at a news briefing.

Israeli missile strike killed Yassin with seven other people early Monday as he left a mosque in the Gaza Strip. The killing has sparked violent demonstrations throughout Gaza and Hamas has vowed to revenge.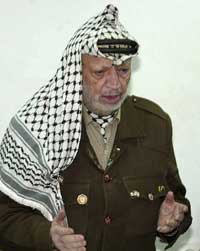 Yasser Arafat

It is reported that after Yassin's killing, Arafat has expressed concern that he might also be targeted by Israel.

"Arafat feels he is threatened, and we feel he is threatened because when they target Sheik Yassin, they are not far from Arafat," Palestinian Communications Minister Azzam Ahmed reportedly said.

Israel has showed no sign to attack Arafat, who has not left his West Bank headquarters for nearly two years.

Today's Top News
Top World News

China slams US, suspends human rights dialogue




Taiwan case could spur court intervention





May Day Europe trip still out of reach




Nation pins hopes on oil project with Russia




Credit consumption a way of life in Shanghai




Israeli FM: No plan to kill Arafat