Pakistan finds 'escaped' tunnels
(Agencies)
Updated: 2004-03-23 10:09
Pakistan's military said that a top Al-Qaeda-linked target being hunted by troops in the country's northwest tribal region may have escaped through a newly-built tunnel uncovered amid a temporary halt to fighting.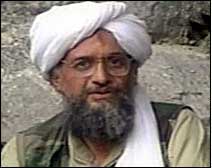 Ayman al-Zawahiri

Brigadier Mehmood Shah, chief of security for the northwest tribal region, told reporters the tunnel ran from the homes of two tribesmen wanted for sheltering Al-Qaeda fugitives and emerged at a stream 1.2 kilometres (one mile) away.

The discovery came as a delegation of elders tried Monday to negotiate the surrender of Al-Qaeda fighters believed to be protecting a senior militant leader.

Firing halted early Monday after intense exchanges overnight between troops and an estimated 500 tribesmen and militants, now believed to be mostly radical Uzbek or Chechen fugitives who fled to Pakistan after the 2001 US-led offensive in Afghanistan.

"Firing has stopped and a truce will be observed for the whole day," the chief administrator of South Waziristan tribal district, Rehmatullah Wazir, told AFP.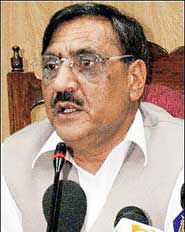 Chief of Security for Pakistan's Tribal Zone, Brigadier Mehmood Shah in Peshawar. [AFP/File]

Military officials insisted the suspension in firing was not an official ceasefire.

The delegation of some 20 tribal elders flew white flags from their cars as they travelled into Kalusha and Shin Warsak villages, near the South Waziristan capital Wana, where a siege has left at least six people dead.

They are trying to persuade the local Yargulkhel clan, a fierce Pashtun sub-tribe which has been sheltering and fighting alongside the militants, to hand over the fighters along with 12 soldiers and two officials taken hostage.

The bodies of six "foreign miscreants" recovered from the fighting on Sunday are undergoing DNA testing at army headquarters in Rawalpindi, military spokesman Major General Shaukat Sultan said.

The tests were "to confirm their nationality and identity since they do not carry any identity documents on them," he told a press briefing.

Press photographers were shown five of the bloodied bodies on Sunday night. Their faces were mutilated, with only black beards clearly visible. It was impossible to tell whether their features were Arab or Central Asian.

The sixth body was too far decomposed to be displayed, Sultan said.

Overnight some of the militants appeared to have attempted an escape, Shah said.

"It looks like they were trying to escape from the area and that was the reason there was intense firing, we even used artillery at night," Shah told AFP.

Sultan warned of a harsh army assault if they did not meet government demands.

"They must meet the demands unconditionally ... The government is determined either to apprehend them or carry out cleansing of the area," said Sultan.

Since Thursday thousands of Pakistani army and paramilitary troops have been using attack helicopters and artillery to pound the mud-brick tribal fortresses where the tribal fighters and militants are heavily dug-in.

President Pervez Musharraf last week said it appeared a "high value target" was being protected, and the level of resistance led some officials to believe it could be Al-Qaeda number two Ayman Al-Zawahiri.

But regional experts believe the "high value target" is more likely to be a Chechen or Uzbek militant leader, because of the large number of Central Asians arrested and intercepted radio conversations in Chechen and Uzbek language.

Almost 200 foreigners and local tribesmen have been arrested since Friday, Shah said.

"There are more Chechens and Uzbeks than Arabs among the foreigners arrested," Shah said.

Amid fears of a fiercer onslaught if the negotiations fail, residents in surrounding villages were preparing to join 30,000 people who fled their homes in Kalushah and Shin Warzak last week.

"There is an unprecedented panic and chaos, people are using trucks, pick-ups and tractors to move their belongings to safer places," one witness said.
Today's Top News
Top World News

Credit consumption innovates way of life in Shanghai




May Day Europe trip still out of reach




Nation pins hopes on oil project with Russia




Government puts lid on overheating industries




Yassin buried; Hamas pledges retaliation




Chinese cities preparing emergency plans