Credit consumption a way of life in Shanghai
By Cao Desheng (China Daily)
Updated: 2004-03-23 09:07
Yang Xiaoyan is a university graduate in her 20s. She has three years of employment experience, and currently earns 5,000 yuan (US$600) per month working for a tourism company in Shanghai.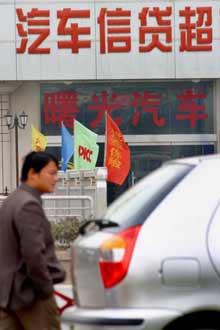 A man stands outside an automobile mortgage loan centre in Nanjing, capital of East China's Jiangsu Province. More people are willing to purchase on redit in China's big cities. [newsphoto/file]

Yang's profile isn't exceptional compared to many of her peers in major Chinese cities, yet they usually find themselves sleeping at their parents' house or bargaining with gossipy landlords for a rented flat.

But Yang is exceptional in terms of accommodation.

Last month she bought a flat with a floor space of 120 square metres in a city where the value of land is extremely expensive. The new apartment is even 20 square metres larger than what her parents' life savings have got them.

Yang purchased her flat with a mortgage loan. After paying the first instalment, she will have to pay the bank 2,000 yuan (US$240) every month for the next 20 years.

But Yang seems not to care about it.

Mortgage loans

"It is a practical way for young people to take advantage of mortgage loans since they lack money but need their own place," she says.

Yang describes it as "worthy" for her to bear a huge debt for the house. "What a deal! I can enjoy a comfortable life 20 years earlier than my parents do."

Like Yang, more residents in Shanghai, many of them white-collar, have embraced the new consumption method.

Statistics from the Shanghai branch of the People's Bank of China indicate that by the end of 2003 the balance of consumer loans of all financial institutions in Shanghai totalled 193 billion yuan (US$23 billion), with mortgage loans accounting for 170.9 billion yuan (US$21 billion) of that amount.

Automobile loans surged more than 100 per cent over 2002 to 8.5 billion yuan (US$1 billion), the statistics show.

Twenty years ago Chinese people were considered to be conservative when it came to borrowing money. Their living standards were determined by existing incomes without depending on bank loans to live a better life.

To expand domestic demand and stimulate the nation's consumer market, the Chinese Government introduced the consumer credit system in the mid-1980s, which has since revolutionized the nation's consumer conceptions.

After two decades of development, consumer credit has become commonplace, from mortgage loans for housing in the early period to the current trend of borrowing for automobiles, household furnishings and educational expenses.

According to a survey conducted by the National Statistics Bureau in collaboration with China Central Television (CCTV) among 3,000 families in the country's 10 major cities, the proportion of those who oppose credit consumption dropped from 53.2 per cent five years ago to the current 27 per cent, while those who are in favour of the system rose from 26.8 per cent to 45.7 per cent.

While consumer credit has been adopted by urban dwellers as a way to improve their living standards, in-debt consumers are springing up all over China.

The latest figures from the Shanghai Statistics Bureau indicate that, in the first half of the previous year, the budget deficit for the residents of the metropolitan city in East China stood at 721 yuan (US$87) on average, and more than 30 per cent of them failed to pay this debts.

The number is estimated to rise in Beijing since the average income of Beijingers is less than that of Shanghai residents.

Experts predict the number of in-debt consumers will surge in the future since people's consuming urges will be spurred by the thriving market.

Lu Qian, a business manager for a Beijing company, faced legal proceedings because he failed to make the mortgage loan payments for his newly-purchased house in successive months.

Lu stopped paying the monthly mortgage loan to the Beijing-based Haidian branch of China Construction Bank in September 2002, 21 months after the latter approved him for a 10-year mortgage worth 4.55 million yuan (US$550,000), to be repaid at the rate of 49,000 yuan (US$6,000) per month.

Demanding the payment from Lu without success, the bank took him to Beijing No 1 Intermediate People's Court.

Lu is not alone.

Sources from Beijing Chaoyang District People's Court say the court has handled about 100 cases of mortgage-loan contract disputes over the past three months, with the involved loan volume totalling more than 100 million yuan (US$12 million).

Such cases are on the rise since an increasing number of banks have brought the mortgagors who can't afford to pay their loan to court, they say.

The rising number of cases has alerted financial institutions and the government that a credit checking system is imperative.

Credit checking system

In 1999, Shanghai was selected by the central government to pilot the credit checking system experiment - part of the nation's move to speed up construction of its credit system - and Credit Information Services (CIS), a specialized agency recording consumers' credit scores, was established.

CIS completed the construction of the information collecting system in 2001, and it has been in operation ever since.

The CIS-established Joint Individual Credit Service System Data Collection and Credit Report Query Sub-System has collected information on more than 3.7 million Shanghai residents, according to Shanghai Municipal Information Commission.

So far, 26 commercial banks and financial institutions have jointly provided their customer information to CIS.

At the same time, many people in Shanghai have become increasingly aware of the fact that their credit rating can have a direct impact on their lives.

Example

Edison Zhang, a Shanghai University senior applying for a government job is a good example. For a certain period of time, he was so worried that a missed monthly payment to Shanghai Telecom for his ADSL service could affect his credit rating, definitely disqualifying him from employment in the civil service.

He spent many sleepless nights before he was told by friends that he could check his credit rating at the CIS, which he did, finding to his relief that his record was clean.

"Now I know that my credit rating is one of my most valuable assets," Zhang says. "I need it to get a credit card, mortgage loan or any consumer credit," he adds.
Today's Top News
Top China News

China slams US, suspends human rights dialogue




Credit consumption a way of life in Shanghai




Taiwan case could spur court intervention





May Day Europe trip still out of reach




Nation pins hopes on oil project with Russia




Government puts lid on overheating industries