Chinese cities preparing emergency plans
By Wu Gang (China Daily)
Updated: 2004-03-23 08:54
Modern cities, which boast sophisticated technology and advanced infrastructure, are never as strong or peaceful as they appear.
The September 11, 2001 terrorist attacks in New York and Washington, last summers's massive blackouts in North America, the subway fire in Seoul, and, most recently, the bloody bombings in Madrid are just a sampling of the long litany of nightmares urban dwellers have been forced to cope with.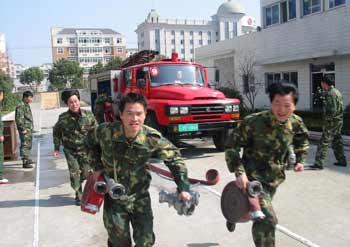 Fire-fighting volunteers drill at a neighbourhood in Shaoxing, East China's Zhejiang Province. [newsphoto/file]
Bearing these disasters in mind, safety experts in China are preoccupied with one question: "Are we well enough prepared to prevent or minimize disaster damage in our cities?"
It does not require a major disaster like the outbreak of SARS (sever acute respiratory syndrome), which hit the capital suddenly last spring, to underline the need for such measures. In the absence of an adequate emergency response system, even a minor snow fall can leave the city in a mess.
Traffic breakdown
On December 17, 2001, a snowfall in the afternoon covered Beijing streets with a thin layer of ice. The city's entire traffic network, worsened by the weekend rush hour, was completely paralyzed and many people did not reach home until midnight.
The public outcry following that incident prompted the municipal government to establish a snow-day traffic command centre 10 days later, headed by a vice-mayor and composed of chiefs from various government departments, including traffic police, health, power supply, meteorology and utilities management.
The impact was obvious. On the night of December 6 last year when a moderate snow blanketed Beijing, the command centre initiated a Grade-3 emergency plan two hours later. Traffic moved freely through the night.
The lesson of the snow underlined the fragility of the city's emergency plans. Since then, the leaders have reportedly been considering the establishment of a city alarm and emergency response system to counter all kinds of potential hazards as Beijing prepares to host the 2008 Summer Olympics.
Beijing's subway, with a daily volume of 2 million passengers, has operated safely for several years. But for Zhang Xing, safety director of the subway company, the odds of maintaining that record grow slimmer every day.
The builders of Beijing's subway gave public security little consideration in the 1960s, Zhang says. Although trouble-shooting projects were carried out in the 1980s, Zhang can still list a number of problems.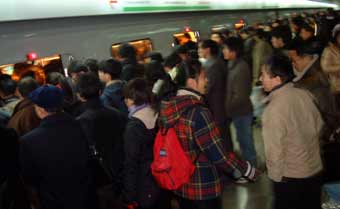 A typical scene at subway stations in Shanghai. Crowded platforms could cause a stampede when passengers panic in dangerous situations. [newsphoto/file]
For example, passengers can only contact the driver by pressing a red button in each car, no matter whether the emergency is a fire, an explosion or a pregnant woman giving birth. Without a facility for direct communication, the driver cannot tailor his response to varying circumstances.
On the platforms of Line 1, the subway going under Beijing's Changan Avenue, monitoring cameras are only used for drivers, showing pictures of passengers getting on and off the trains. The subway police squad has no monitoring system of its own, but has to share the drivers', seeing only what the driver can see.
More than 30 per cent of the trains running on Line 1 and Line 2 have reached their retirement year and are prone to mechanical problems and fire, says Zhang.
The most dangerous subway emergency is a fire, said Zhu Yinxin, architecture technology professor at Tsinghua University.
Stampede
The limited space on the platforms would likely cause a stampede tragedy when passengers panic, she says.
"But a thorough overhaul needs a huge amount of money, about 1 billion yuan (US$120 million)," says Zhang.
Away from the subway, dangers lurk in other corners of the city.
According to a recent report from Beijing Disaster Reduction Society, the city has 300 to 400 kilometres of underground pipes and tunnels, and more than 3,000 kilometres of underground cables, most of which were installed in the 1970s. Some were wrapped in oil-drenched paper.
Surface temperatures of the roads can reach 60 to 70 degrees centigrade on hot summer days. If the old equipment catches fire, a blaze could quickly spread out and threaten entire sections of the city, the report says.
Experts warn that in cosmopolises like Beijing, public crises often spark a chain reaction. The networks of roads, water pipes and other lines criss-cross. Any serious accident could trigger a domino effect of disasters.
Problem and solution
But changes are quietly taking place in Beijing.
In the subways, for example, food kiosks and newspaper stands have been removed from the platforms to clear the way. Each station is equipped with a poisonous gas sensor, breathing masks, and even large hammers for breaking down doors.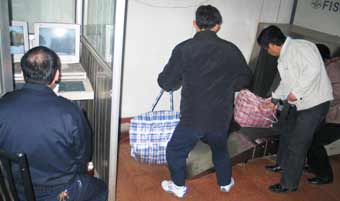 A subway security officer looks at monitors to check passengers' luggage going through a scanner in Shanghai. [newsphoto]
At some stations there are large stainless steel buckets for the disposal of explosives, though many passengers think they are garbage receptacles.
The subway company will soon carry out a drill in which a command team will lead hundreds of rescuers to deal with an imaginary explosion in a tunnel between Dongdan and Jianguomen stations.
Experts point out the prominent problem of the country's disaster response systems lies in the absence of integrated command and control.
The country's emergency response systems belong to 17 different departments which separately do their own job, according to Li Jin, deputy chief of Beijing's municipal fire department.
For example, forecast of an earthquake comes from the local earthquake bureau. The fire and medical departments are responsible for the rescue work after the quake hits. Then the relief work is the responsibility of the civil affairs department.
The division of work makes each department's responsibility clear, but in practice the jurisdictions are often mixed up, causing a waste of resources, says Li.
Another problem is that information from various departments is not appropriately shared. Whenever a major crisis occurs, a temporary command centre headed by the mayor must be set up to co-ordinate the rescue efforts.
Moral boosting
Municipal government leaders going to the front line can boost morale, but safety experts say a provisional command team lacks resources and experience. The disaster relief work can not be guaranteed over the long term, according to a report of the Beijing Municipal Association for Science and Technology.
"The core of disaster reduction is to integrate various resources into a comprehensive management system," says Jin Lei, deputy secretary-general of China Disaster Prevention Association.
Beijing started to consider establishing an urban alarm and emergency command system in February last year. The outbreak of SARS in March proved to be the catalyst for that process.
A planning team was reportedly established in late April. Headed by then Acting Mayor Wang Qishan, the team consisted of 16 functional departments of the municipal government, including traffic, police, power supply, water supply and urban planning departments.
The emergency response system includes nine sub-systems, respectively dealing with major traffic accidents, fire, public health, infrastructure, terrorist attack or major crimes, workplace safety, earthquake, flood, and major animal epidemics.
An emergency command centre will be set up as the general commander of the nine sub-systems.
When the system is fully established, various emergency information will go to the information platform of the command centre. The computer system will analyze the information and forward it to the police and fire departments.
When a major emergency occurs, the case will be reported to the municipal public safety committee, which will deal with the emergency according to default response plans.
Safety experts point out that the Chinese authorities should not only quickly respond to an accident, but also pay attention to measures needed to prevent potential disasters.
But before a sound emergency command system comes into being, the most realistic alternative is to improve public awareness, which is sorely lacking, says Japanese public safety expert Akihira Komatsu, whose judgment is based on his experience in China.
"In Japan, if someone discovers an open bottle of mineral water on a supermarket shelf, the police would be alerted and called in immediately in case it's some kind of mass poisoning attempt.
"But in China, I doubt anyone would react like that."
Today's Top News
Top China News

Nation pins hopes on oil project with Russia




Government puts lid on overheating industries




Yassin buried; Hamas pledges retaliation




Chinese cities preparing emergency plans




Oil price hike unlikely to force up airfares




Credit consumption innovates way of life