New rule to guide forex sales to banks
By Zhang Dingmin (China Daily)
Updated: 2004-03-23 08:38
China's foreign exchange authorities yesterday issued stricter rules on local residents selling foreign currencies to banks in a further bid to prevent inflows of speculative funds betting on an appreciation of the local currency, the renminbi.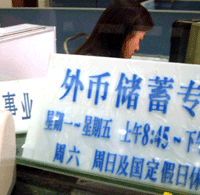 [newsphoto]

Starting from April 1, when selling a forex equivalent of more than US$10,000 to banks, Chinese residents will be required to show both their identification cards and documents verifying the legitimacy of the funds, the State Administration of Foreign Exchange (SAFE) said.

When the amount exceeds US$50,000, the seller needs to report to local foreign exchange authorities for approval, it said.

Chinese residents can either hold their foreign exchange or sell it to banks.

The move aims to both facilitate trade and investment and "prevent speculative cross-border capital transactions through the channels of non-trade foreign exchange activities by both residents and non-residents," SAFE said in a statement.

The new regulation follows a similar one announced by the commission last month governing forex sales by non-resident individuals. Such individuals include foreigners and residents of the Hong Kong and Macao special administrative regions and Taiwan, as well as people who hold a Chinese passport but live permanently outside of China.

In the years following the Asian financial crisis, Chinese people and corporations favoured forex over renminbi, trying to keep their forex assets abroad - which is forbidden by Chinese laws - for fear of the local currency depreciating.

The trend witnessed a sharp reversal in 2002, when people started to convert their forex holdings back into renminbi after international pressure grew on China to let the currency appreciate on the back of its growing economic clout.

Forex sales by individuals to banks jumped in recent years, surging by 84 per cent on a year-on-year basis in 2003 to US$31.4 billion, while their forex purchases from banks rose by only 13 per cent, official statistics show.

Speculative funds entered as well, heightening regulators' awareness over short-term capital inflows that are seen as potentially disruptive to financial stability.

Sources said personal transactions could be a major channel by which speculative funds flowed into China because the verification of such transactions is more difficult than those by corporations.

"Now the supervision is tighter and the inflow (of illegal funds) will be more difficult," said Wang Yuanhong, a senior analyst with the State Information Centre.

The Chinese currency is convertible under the current account, which includes trade in goods and services, but is only partly convertible under the capital account, which typically covers foreign direct investment, portfolio investment and others.

The rapid capital inflows in recent years, some through illegal channels, have fuelled a quick monetary expansion in China's financial system, as the central People's Bank of China (PBOC) purchases excess dollars from banks under the forex management regime, which is backed by huge amounts of renminbi.

Consequently, China's foreign exchange reserves, which come from the PBOC's dollar purchases, soared, capping US$400 billion at the end of last year.

Another consequence of the central bank's huge dollar purchases was the ample liquidity at commercial banks and a subsequent credit expansion, which forced the PBOC to raise bank reserve requirements by 1 percentage point in September last year.

Also reflecting Chinese residents' growing preference for renminbi due to revaluation expectations, the downward trend in foreign exchange savings deposits continued this year, following months of slow growth in the early part of 2003.

China's forex savings deposits fell by an abrupt 7.5 per cent on a year-on-year basis to US$83.2 billion at the end of last month, faster than the 4.9 per cent decline recorded at the end of January.

"Expectations that the renminbi will soon appreciate was still a major reason," said Wang.

"Many people kept converting their forex assets into renminbi."

Partly as a result, renminbi savings deposits continued to rise rapidly. Official statistics show that total savings, of which forex account for a small fraction, jumped by an annualized 18.6 per cent to 11.63 trillion yuan (US$1.4 trillion) at the end of January.